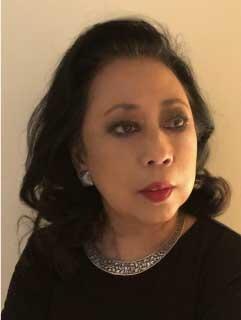 UC Berkeley Social Sciences Associate Dean Khatharya Um was recently named a laureate of the distinguished Fukuoka Prize. Um, who is also an associate professor of Ethnic Studies, was selected for Fukuoka's Academic Prize for her notable contributions in the fields of political science, Southeast Asian Studies and global education – especially her work on the history of Cambodia, the Fukuoka Prize Committee announced.
"I am extremely humbled by this honor and profoundly grateful for this recognition," said Um, who was born in Phnom Penh, Cambodia and relocated to the U.S. in 1975 during her country's civil war. "As a refugee studies scholar, I see this as a recognition not only of my scholarly contributions but of the critical nature of the issues that we engage as scholars and global citizens, which are among the most pressing of our time."
"Congratulations to Professor Um on her well-deserved recognition as a Fukuoka Prize laureate," UC Berkeley Chancellor Carol Christ said. "This prestigious accolade recognizes not only the depth and impact of her scholarly contributions to Southeast Asian Studies, but also her commitment to illuminating the stories of refugee communities, the struggles they face and the resilience they embody. It's a proud moment for our university, as this honor highlights the role UC Berkeley plays in fostering groundbreaking and socially responsive research."
Um, who is the Division of Social Sciences' associate dean of diversity, equity, inclusion, belonging and justice (DEIBJ), began her academic journey under the tutelage of the renowned East Asian scholar and UC Berkeley professor Chalmers Johnson. After earning her Ph.D. in 1990 and serving as a Chancellor's Distinguished Postdoctoral Fellow, she joined UC Berkeley as an assistant professor in the Department of Ethnic Studies in 1995, and was later promoted to associate professor in 2001.
In her scholarly work, Um has explored some of the most pressing societal challenges, including the examination of the sufferings of immigrants and refugees, and the issues and concerns of diasporic communities, particularly those of linguistic minorities in the U.S. In 2015, she published "From the Land of Shadows: War, Revolution, and the Making of the Cambodian Diaspora", a key work delving into the reasons behind the Cambodian genocide and the resilient spirit of survivors.
As a co-founder of the Critical Refugee Studies Collective, Um's intimate exploration of Cambodia's civil war and genocide, informed by her personal experiences, has carved out a path for a new field of research. This approach has gained increasing relevance in these uncertain times. Her consistent efforts to address contemporary challenges, refresh academic research through collaborative endeavors, empower youth through education, and foster a global civic solidarity that goes beyond national boundaries, make her a deserving recipient of the Fukuoka Academic Prize, according to the Fukuoka Prize Committee.
"As a refugee from Cambodia, I am grateful for the light that is shone on the potentiality and contributions of refugees," Um said. "Now more than ever, this light needs to shine through the darkness of fear, anxiety and hate."
UC Berkeley Social Sciences Dean Raka Ray said: "We are deeply proud of Professor Um's selection as a Fukuoka Prize laureate. This prestigious honor acknowledges not just the brilliance and breadth of her scholarship, but also the deeply human and compassionate approach that she brings to her work. As a leading scholar in Southeast Asian Studies, she exemplifies what it truly means to be a global citizen with her commitment to equity, inclusion and justice."
Um has made it her mission to foster an academic environment that promotes mutual respect among diverse nationalities, races, ethnicities, languages, genders and political beliefs, and advances academic freedom and scholarship. Her teaching extends beyond the boundaries of UC Berkeley, reaching universities in Asia and Europe. She has also collaborated with UNESCO to publish a shared history curriculum on Southeast Asia, aimed at promoting international cooperation and inspiring students. These commitments to education and research earned her the 2019 Chancellor's Award for Advancing Institutional Excellence and Equity at UC Berkeley.
Um is also committed to mentoring the next generation and carving a path towards global peace and justice. "In mentoring students, I am not simply teaching them how to do good research or to think and write analytically," Um has said. "I am seeking to empower them to believe in themselves, to valorize their Southeast Asian heritage, to believe in the importance of researching and preserving the stories that have been bequeathed to them."
The Fukuoka Prize was established by Fukuoka City, Japan, in 1990 to honor individuals, groups and organizations that preserve and foster Asian cultures. The prize aims to foster and increase awareness of the value of Asian cultures, and to institute a broad framework for exchange and mutual learning among the people of Asia. This year marks the 33rd anniversary of the inception of the Fukuoka Prize. In the past, the Fukuoka Prize has been awarded to 121 leading figures, including Nobel Peace Prize laureates. 
Um will attend the Fukuoka Prize award ceremony in Japan on Sept. 12 and participate in a series of public lectures.