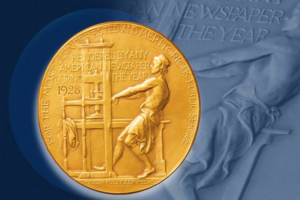 Hua Hsu, who graduated from UC Berkeley in 1999, is a 2023 Pulitzer Prize winner in the category of memoir or autobiography for his book, Stay True, Columbia University announced Monday, May 8, on the recommendation of the Pulitzer Prize Board. Hsu's memoir recounts his experiences as an 18-year-old Berkeley undergraduate stepping into adulthood in the mid-1990s.
Hsu received the award for "a distinguished and factual memoir autobiography by an American author" and will receive $15,000, according to Columbia's announcement, which describes the book as "an elegant and poignant coming-of-age account that considers intense, youthful friendships, but also random violence that can suddenly and permanently alter the presumed logic of our personal narratives."
"We are thrilled to join the world in recognizing Professor Hua Hsu's remarkable achievement. UC Berkeley strives to be a place where students have space to grow, celebrate their strengths, learn from their differences, and create life-defining relationships. I'm sure his story and message will stand as inspiration for our current and future students," said Susan Hyde, chair of the Department of Political Science.
Born in Champaign-Urbana, Illinois, and raised in Cupertino, California, Hsu was the only child of Taiwanese parents who immigrated to the U.S. 
In Stay True, Hsu describes the process of choosing with his parents to attend Berkeley: "Berkeley was a good school, with a good campus — on this point, we agreed," Hsu wrote. "But I was desperate to go there because of the enormous slices of pizza and cheap records, the left-wing bookstore tucked inside the parking garage, the weirdos yelling about free speech or abortion on the quad. I was an American child, and I was bored, and I was searching for my people."
Drawing from popular music references and cultural touchpoints, Hsu paints a vivid picture of his time at Berkeley with stories from campus and around the Bay Area. He delves into what it was like exploring different identities, navigating complex parental relationships, discovering new interests while discarding old ones, and developing friendships along the way. 
His memoir primarily centers on one particular friendship: Hsu's relatively brief, yet profound, relationship with a fellow student, Ken. While at Berkeley, the pair progressed from basic acquaintances to unlikely best friends. 
During an interview with National Public Radio, Hsu shared, "When I arrived at Berkeley in 1995, I was seeking out people who were exactly like me. And Ken was very different. You know, he was really confident, a sort of conventionally handsome Japanese American dude from San Diego. …And so when we initially met, I didn't really think we'd be friends, let alone friends who ended up, you know, sharing a lot of sort of intimate dreams and hopes with one another." 
When Ken is killed in a carjacking after the friends were only together a few years, Hsu further contemplates in Stay True the meaning of life, loss and friendships, examining these events in moving prose and detail. 
Stay True has also been named one of the "10 Best Books of 2022" by The New York Times and The Washington Post and is a National Book Critics Circle Award winner.
After graduating from Berkeley with a degree in political science, Hsu attended Harvard University and earned a Ph.D. in the history of American civilization. Today, he is a staff writer at The New Yorker and a professor of literature at Bard College. His first book, A Floating Chinaman: Fantasy and Failure Across the Pacific, is a nonfiction work about writer H.T. Tsiang. 
Since attending Berkeley, Hsu has maintained close ties with the campus. In 2016, he joined in conversation with fellow alumnus and writer Jeff Chang and Scott Saul, professor of English: "Music, Race & the Craft of Writing."
"Stay True is an absorbing and beautifully evocative memoir that works on so many levels at once. It's a pitch-perfect account of Berkeley in the late-1990s, as seen through the eyes of an undergraduate alive to 'small moments of everyday beauty and weirdness' and yet full of large dreams of remaking the world, one zine and one mixtape at a time," shared Professor Saul.
"It's a graceful tribute to a friend who helped Hsu spin out those dreams, and to the gift of friendship in helping us to know ourselves. And it's a meditation on grief and memory, and on what it means to "stay true" to who you might have become in your youth."
Hsu is one of two UC Berkeley alumni awarded a 2023 Pulitzer Prize. Read about fellow winner, Jefferson Cowie, on L&S News.