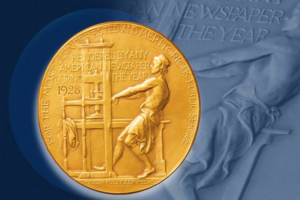 UC Berkeley alumnus Jefferson Cowie, an American historian and scholar, was awarded the 2023 Pulitzer Prize in the history category on Monday, May 8, for his book Freedom's Dominion: A Saga of White Resistance to Federal Power. According to Columbia University's announcement, Cowie will receive $15,000 for his achievement. 
Cowie, who graduated with a history degree in 1987, is one of the country's preeminent historians, and his body of work  — including three previous, celebrated monographs, edited volumes, journal articles, essays and popular writing — excavates the interplay of class, race, labor, capital and inequality in U.S. history.
"We couldn't be more proud of our alumnus, Jefferson Cowie, for his remarkable achievement in winning the 2023 Pulitzer Prize in history," Berkeley Social Sciences Dean Raka Ray said. "His insightful exploration of class, race and inequality in U.S. history not only reflects the rich intellectual tradition of UC Berkeley, but also underscores the transformative power of historical inquiry in understanding America's complex past and its implications for the future."
The Pulitzer Prize Board described Freedom's Dominion as "a resonant account of an Alabama county in the 19th and 20th centuries shaped by settler colonialism and slavery, a portrait that illustrates the evolution of white supremacy by drawing powerful connections between anti-government and racist ideologies."
In his book, Cowie focuses on a "quintessentially American place: Barbour County, Alabama, the ancestral home of political firebrand George Wallace." Cowie inspects the relationship between white Alabamians and the federal government through distinct time periods ranging from the early 19th century into the 1960s during the civil rights movement. Throughout his chronicles, Cowie interrogates the meaning of freedom, and how it was shaped and influenced by white supremacy.
"I hope readers will understand some of the violence and themes of domination that often lie at the heart of American freedom," said Cowie, who is currently the James G. Stahlman Professor of American History at Vanderbilt University. "Although this is only the story of one county, there is much to learn about an entire country's need for a vigorous commitment to our democratic institutions."
In Freedom's Dominion, Cowie included a moving tribute to the late Leon Litwack, a Berkeley history professor: "Interest in this project was primed 30 years ago in Professor Leon Litwack's Afro-American history class at the University of California at Berkeley. In that lecture hall, a dumb kid from a painfully white town in the Midwest learned how race worked in American history. While I ended up devoting most of my career to figuring out how class functioned in the allegedly classless world of American social and political history, I eventually got pulled back, as if on an elliptical journey, by the gravitational pull of the ideas Professor Litwack so persuasively presented. Picking up Been in the Storm So Long one more time and feeling its weight, its cadence, and its pain is to re-experience the intellectual ache and confusion of that semester. Rest in power, Professor Litwack." (Freedom's Dominion, 418). 
"We are thrilled at the news that Jefferson Cowie has just received the Pulitzer Prize for history," said Brian DeLay, an associate professor of history at Berkeley. "Even before the publication of Freedom's Dominion, Jeff had established himself as an absolutely indispensable interpreter of modern American history. His work models the virtues of deep research, analytic ambition, elegant prose and critical public engagement that we strive to encourage in all of our students." 
Over the past 20 years, Cowie's work has consistently drawn critical praise for his astute exploration of American politics, culture and capitalism. In a review of Cowie's book Stayin' Alive, Washington Post columnist E.J. Dionne wrote, "[Stayin' Alive] will long stand as the finest and most sophisticated portrait of politics and culture in the American 1970s, and also as a model for how to talk about both political and cultural transformations without shortchanging either. … Cowie makes understanding his goal and condescension the enemy." 
The Nation described Cowie as "one of our most commanding interpreters of recent American experience."
Prior to teaching at Vanderbilt University, Cowie taught at Cornell University for 18 years, where he also served as chair of the School of Industrial and Labor Relations. After graduating from Berkeley, Cowie earned his Ph.D. in history from the University of North Carolina at Chapel Hill. Today, he remains a self-described "passionate and dedicated educator," who asserts that above all, raising his kids is the most important experience of his life.
Cowie is one of two Berkeley alumni awarded a 2023 Pulitzer Prize. Read about fellow winner, Hua Hsu, on L&S News.