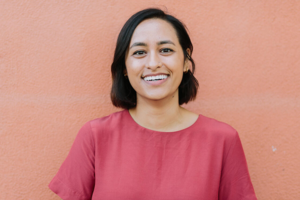 UC Berkeley's Department of Anthropology announced the inaugural recipient of the Sam Dubal Fellowship in Critical Cultural and Medical Anthropology, Carolina Talavera. The fellowship, established in 2021, honors the enduring vision and memory of Dr. Sam Dubal '15. Dubal was an anthropologist, activist, medical doctor, professor and beloved contributor to many vibrant intellectual communities. Earlier this year, his family had the opportunity to congratulate Talavera in person, and Dubal's sister Veena Dubal J.D. '06, Ph.D. '14 shared, "Our family is proud to have met the first recipient of the Sam Dubal Graduate Student Fellowship in the anthropology department at ⁦UC Berkeley. Carolina Talavera's research on structural violence and homelessness in London is in the tradition of Sam's work."
Beyond being doctoral students in one of the best medical anthropology Ph.D. programs in the country, recipients of the Sam Dubal Fellowship are well-respected scholars entrusted with advancing Dubal's vision of transforming inequalities through academic research and teaching. Dubal's sister, Dena Dubal '96, M.D., Ph.D., said, "Our hope is that this will serve Sam's legacy by opening lines of research that are important and revolutionary. This fellowship will support the training of individuals and projects that advance a collective mission toward an ethical world." 
Carolina Talavera spoke to Berkeley Letters & Science (L&S) to share her perspective on being awarded the Sam Dubal Fellowship. This interview has been lightly edited for length and clarity.
Berkeley L&S: Congratulations on this award! Can you tell us a little more about yourself?  
Carolina Talavera:  I'm a Latinx woman, first-generation Nicaraguan-American, and second-generation Mexican-American. I was born in San Diego, California. I got my B.A. in anthropology at UC Santa Cruz and then went on to get my master's degree in medical anthropology at University College London (UCL). 
Both my parents led and managed public health research projects throughout my entire life, so I grew up surrounded by people who were committed to researching and addressing health disparities in my community.
While conducting my MSc at UCL, I volunteered with and conducted research with the English Collective of Prostitutes. My dissertation focused on the violent and stigmatizing effects of criminalizing sex workers during the 2012 London Olympics and argued that the conflation of sex work and sex trafficking justified both a humanitarian imperative to save and a carceral imperative to punish.
After finishing my MSc in medical anthropology, I spent a few years working on different public health research studies as a research assistant and project coordinator. Having studied anthropology, I questioned the established frameworks through which we understand health disparities. That was when I decided to pursue my Ph.D. in medical anthropology, which brought me to the UC Berkeley and UCSF Joint Medical Anthropology Program.
Your research largely brings to light the struggles faced by vulnerable populations burdened with housing insecurity, among other hardships, particularly during the pandemic. Can you tell us more about your research? 
My research focused on women living in temporary accommodation, safety-net homeless provision provided by municipal governments to aid London's most vulnerable populations when suddenly hit with homelessness. While my research primarily took place in an east London borough with the highest rates of homeless in the country, this is an issue that is felt at varying degrees throughout London. In my dissertation, I argue that although emergency or temporary accommodation avoids some of the dangers of street homelessness, it is still a band-aid solution that sits at the interstice of a diminishing welfare state and a carnivorous private housing and rental market. Looking at the experience of temporary accommodation offers insights that are helpful for understanding how housing insecurity has become a chronic condition of everyday life.    
Based on ethnographic research, I focused on the everyday experiences of living in this ongoing-yet-temporary limbo. I began to understand that terms like 'crisis' didn't seem to capture the really mundane ways in which people were being harmed by waiting for the promise of security that might never arrive. For example, the way a set of stairs exacerbates a pelvic injury each time it is confronted; the build-up of panic in claustrophobic spaces; the absent bath rail that is experienced as a daily bodily danger; the generalized distress as mold slowly recolonizes a bathroom; the shame in enduring personal finance reviews. These encounters constituted the condition of waiting, producing chronic mental and physical distress that was difficult to capture and resolve within the bureaucratic management of homelessness. These conditions were not considered urgent or severe enough to demand immediate attention, therefore being liveable enough for residents to continue enduring them in the space (and time) of 'temporary' accommodation. Residents of temporary accommodations were often told their time was coming, but that 'time' was endlessly deferred.
How did this research inform your current work?  
This research is important because housing and homeless crises are affecting people everywhere. As housing becomes even more unattainable for most, we need to understand the ways in which different forms of housing insecurity and housing transience affect people's bodies and lives. Indeed, this project was shaped by my master's research and activist commitments in the English Collective of Prostitutes—one of two collectives in the UK addressing the increasing criminalization of sex work from the perspective of current and former sex workers. This project greatly informed the research question of my current dissertation research as I came to understand that the problems affecting this population were also steeped in the larger purview of British society and politics, including the then-newly implemented austerity measures, (im)migration policies, growing issues of gentrification and a housing crisis.
Through my activist work and these intellectual projects, I remain committed to interrogating and challenging contemporary mechanisms of governance, driven by humanitarian ethics in which care/violence are complexly entangled.
How has your experience at Berkeley shaped your perspective and/or prepared you for this fellowship?
My favorite experience here at Berkeley has been the ability to create intellectual communities with other academics who are also committed to addressing health inequalities in different settings. Through other academics, I've been able to learn from and connect to other political struggles across the world. I've both learned so much from my peers and academic advisors about holding onto those political commitments while also challenging our established frames for understanding social issues. One way in which I've tried to channel this work while at Berkeley is by trying to create spaces of community and peer support. 
Drawing on my experience at Berkeley as a woman of color in academia, I developed a mentorship program with undergraduates in my department during COVID. The aim was to foster networks of support for underrepresented minorities in our department because the higher up we go in academia, the less we're represented. I think this is both because of financial barriers and also because of the lack of emotional support and mentorship offered to help us navigate the intensity and difficulties of academic life. I didn't necessarily have the best mentorship as an undergrad and didn't enter grad school with a strong sense of what I was signing up for. If I had access to a program like this, I think my road to grad school might have been very different. 
I worked with the Anthropology Undergraduate Association to create a mentorship program that paired undergrads in our department with graduate students. I think it was a successful program because beyond creating potential networking opportunities for undergrads, it fostered a sense of community and I hope facilitated support for students who might not be sure how to navigate Berkeley life academically or socially while being mostly online during COVID.
How have you been impacted by the legacy and work of Dr. Sam Dubal? 
Sam's work is inspiring because his academic interventions are also political. His book Against Humanity: Lessons from the Lord's Resistance Army, in particular, shows us how apparently unquestionably moral categories such as humanity and humanitarianism can perpetuate underlying inequalities, the result of ongoing historical legacies of racism and colonialism. He shows us there is always a politics to morality. More than just outlining the harm he saw, he tried to think and act beyond it. In this way, Sam's work has definitely resonated with me, pushing me to critically examine the infrastructures of care and humanitarian frames of certain 'moral' interventions, whether the criminalization of sex workers or homeless management. 
Thank you for sharing your story with us, Carolina. Is there anything else you'd like to share?
I want to thank the Dubal family for their generosity and kindness in setting up this award. They've been incredibly supportive of my research and receiving this award has made it possible for me to finish writing my dissertation. I'm honored to be the first of many to carry on Sam's legacy.
More information about the Department of Anthropology's graduate program is available on its website. To support the Sam Dubal Fellowship for Critical Cultural and Medical Anthropology, please visit this webpage.