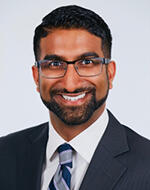 The Sam Dubal Fellowship in Critical Cultural and Medical Anthropology honors the legacy of Sam Dubal, M.D., Ph.D. '15, as an anthropologist, activist, medical doctor, professor, and ardent contributor to many vibrant intellectual communities. Dubal's family generously established a fellowship following his tragic disappearance during a hike on Mt. Rainier in October 2020. The Dubal family's gift, combined with support from friends, family, and community members, and matched with funds from an anonymous donor, will create a $1M endowment to provide full support for doctoral students in the Anthropology Department in the Social Science Division of UC Berkeley's College of Letters & Science. Professor Charles Hirschkind, Anthropology Department chair, noted: "This fellowship will not only ensure that UC Berkeley's Medical Anthropology Program will be able to maintain its tradition of cutting-edge research in this immensely important field of inquiry, but it will also give crucial support to a current of critical scholarship within this broader field—one exemplified in Sam's work—that is challenging and revising many of the discipline's core assumptions."
Dubal's sisters, Professors Veena J.D. '06, Ph.D. '14 and Dena Dubal '96, M.D., Ph.D., spoke about the important promise this fellowship holds for future students and for their family. "Having this fellowship in Sam's honor at Berkeley is tremendously meaningful for our family," affirmed Veena. "My sister, brother, and I all attended Berkeley, in different capacities. For Sam, it was a place where he felt intellectually supported and learned about the world's social, racial, economic, and political inequalities. Berkeley instilled his desire to transform those inequalities through academic research and teaching."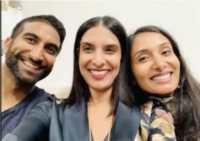 "Our hope is that this will serve Sam's legacy by opening lines of research that are important and revolutionary," said Dena. "This fellowship will support the training of individuals and projects that advance a collective mission toward an ethical world." 
As a graduate student, Dubal participated in the joint medical anthropology program between UC Berkeley and UCSF, conducting intensive fieldwork researching the lives of former child and youth soldiers in Uganda. His corresponding book, Against Humanity: Lessons from the Lord's Resistance Army, posed challenging questions to dominant ethical and humanitarian efforts. Dubal argued that "morality is not affixed to one kind of action; even the most well-intentioned humanitarian and medical efforts can lead to violence when deployed without a deep understanding of the contexts in which they are enacted." According to Nancy Scheper-Hughes Ph.D. '76, Chancellor's Professor Emerita in UC Berkeley's Anthropology Department, "Sam was a trailblazer. He struggled to find and imagine a better path for collective 'goodness' instead of employing the colonialist concept of 'humanity.'" 
Together with Scheper-Hughes, Dubal contributed to the birth of a new field: Radical Medicine. Seth Holmes, Associate Professor of public health and medical anthropology at UC Berkeley, shared that Dubal envisioned and co-founded Rad Med, an inclusive collective at the Berkeley Center for Social Medicine. Said Holmes, "Sam convened scholars, clinicians, students, and patients to work together and imagine different forms and practices of medicine." UCSF professor of humanities and social sciences, Vincanne Adams Ph.D. '87, recalled, "Sam was fearless in his willingness to question authority and the conventional wisdom about how to be both a moral intellectual and of use to those most burdened by neglect and structural discrimination in this world."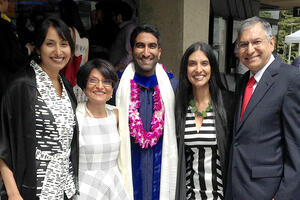 Dubal's sister Dena still revels in Sam's uncompromising moral compass and his staunch commitment to pursuing justice and anti-racism in medicine. "How can someone be so unbeholden to anyone, challenging ideas in ways that are revolutionary, and yet remain so deeply beloved by everyone? It is rare to see those qualities together...and yet that was Sam." UC Berkeley anthropology professor Lawrence Cohen described him as visionary, hardworking, and courageous: "Never complacent, Sam always strived to live a just and meaningful life."
After receiving his Ph.D. in Medical Anthropology from UC Berkeley in 2015 and an M.D. from Harvard Medical School in 2017, Dubal joined the University of Washington as an assistant professor in anthropology. "Although Sam was just beginning his professional career here, he had already made an impact on the world," said James Pfeiffer, an anthropology professor at the University of Washington. "He stood out to us because he had an uncommon combination of fierce intellect and equally fierce caring for the poor and dispossessed that flowed from his heart. In the world of academia and medicine, his authentic, spiritual, and brave voice was astonishing and rare. His thinking and writing will live on in courses and scholarship and politics for generations to come."
Recipients of the Sam Dubal Fellowship in Critical Cultural and Medical Anthropology will be entrusted with carrying on Dubal's prodigious discipline and work ethic, as well as his caring membership in academic and activist communities. 
"Sam was my ancestor-in-house who guided me from his childhood till the day before he went hiking on October 9, 2020," said Dubal's father, Bharat Dubal. "I used to call Sam my sunshine, and his departure has created darkness in our hearts," shared his mother, Saroj Dubal. "One way that we are creating light is through these scholarships. We want to help those who can uphold Sam's dedication and commitment to justice in anthropology and medicine." 
Dubal's father, Bharat, agrees. "Sam's career was just beginning, but now through this fellowship, his legacy can live on." 
To support the Sam Dubal Fellowship for Critical Cultural and Medical Anthropology and continue Dr. Sam Dubal's legacy of bold medical anthropology, please visit this webpage. More information about the Department of Anthropology's graduate programs is available on their website.