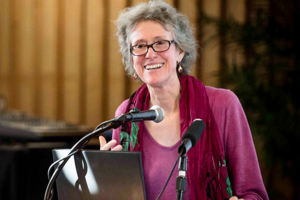 Arlie Russell Hochschild, an esteemed UC Berkeley sociologist and professor emerita of sociology, has been inducted into the California Hall of Fame. Hochschild was recognized for "pioneering new understanding of the emotions that underlie people's beliefs, actions and social lives." 
Hochschild joins 14 other Californians "whose achievements have made history and changed the state, the nation, and the world." On November 1, Governor Gavin Newsom and First Lady Jennifer Newsom joined the California Museum to welcome the 15th class of inductees, which includes actor Lynda Carter, Nobel laureate Steven Chu and World Cup champion Megan Rapinoe, among others.
"These phenomenal individuals are proof that the California dream is alive and well," said Governor Newsom. "These leaders broke the mold. They opened our minds to new possibilities, changed entire industries, and explored remarkable ideas."
After earning her graduate degrees at UC Berkeley, Hochschild joined the Department of Sociology in 1971. She has been a prolific and influential scholar, and her research has helped to inform and shape our understanding of how human emotions impact social roles and life. 
Hochschild's most recent book, Strangers in Their Own Land: Anger and Mourning on the American Right was a finalist for the 2016 National Book Award and a New York Times best seller. According to the California Museum, "Dr. Hochschild's latest book, focused on the rise of the American right, is based on five years of intensive interviews with tea party enthusiasts…She tried to see, think and feel as they do, focusing on ways in which people can communicate across the current political division in the nation." In 2021, Hochschild was elected to the American Philosophical Society.
In response to being a California Hall of Fame inductee, Hochschild said, "I am so deeply honored. All of us are created by the people and institutions that daily nourish us. First as a graduate student and then as a longtime teacher here at UC Berkeley, I've found myself among the nation's best, brightest and most idealistic. Honest, fearless scholarship and teaching are more challenging than ever these days when there are powerful interests at work in our country trying to suppress the right to vote and the very workings of democracy itself. I hope we can vanquish these forces and, at the same time, build bridges across our growing political divide. But in the meantime, thank you, Berkeley."
Hochschild and her class join 138 Californians previously inducted into the California Hall of Fame, representing achievements in arts, business and labor, entertainment, food and wine, literature, music, public service, science and sports. More information is available on the California Hall of Fame website