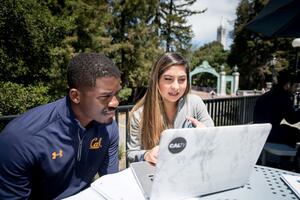 UC Berkeley Social Sciences Dean Raka Ray announced today the launch of a new Master of Computational Social Science (MaCSS) program, which is now accepting applications for its inaugural cohort in Aug. 2024.
Designed specifically for graduates with an undergraduate degree in the social sciences disciplines, the one-year MaCSS program will provide students with the practical know-how to analyze and interpret social data — data about individuals, communities, and the organizations they belong to. Students will not only be taught the intricacies of data but will also be prepared for data analyst roles in the business, government, and nonprofit sectors.
"As the new director of the MaCSS program, I am excited to lead a masters program that combines the rigors of data science with the depth and nuances of social science," Berkeley Sociology Professor Heather A. Haveman said. "Our graduates won't just be analysts; they'll be storytellers, interpreters, and changemakers, who leverage data and social-science driven inquiry to help create a better world."
The MaCSS program was made possible by a $5-million gift from UC Berkeley Social Sciences alumnus and Guitar Hero founder Charles Huang.
"UC Berkeley has the top data science program," said Huang, who recently concluded his term as chair of the UC Berkeley Foundation's Board of Trustees. "Combine that with the best social science departments in the world, I've no doubt the MaCSS graduates will reshape the industry and the future." 
Dean Ray added, "This generous investment from Charles will help shape the next generation of entrepreneurs, nonprofit workers, and analysts with social science training. His support will effectively create a new generation of Berkeley graduates, who have both facility in computational skills and knowledge of societal issues – the very skills the world urgently needs." 
Why Choose MaCSS?
Data availability from both the public and private sectors offers untapped potential. Beyond consumerism, today's vast data pool can be harnessed to address global challenges from healthcare to climate change. MaCSS is designed to train students with a combination of computational and statistical tools, complemented by social science theories, to provide holistic solutions to real-world, human-centered problems.
Diversity in the Data Workforce
Acknowledging the diversity shortfall in the data workforce, MaCSS intends to educate students from many different backgrounds – including women and people of color – to inject fresh perspectives into the realm of data analytics.
Solving Real-World Problems
A distinctive component of the MaCSS program is its capstone project, where students collaborate to solve real-world issues using data from partner organizations. This hands-on approach will strengthen their analytical and teamwork skills.
Advancing Careers
With the MaCSS program, career development and job placement is central. Increasing demand for jobs that require advanced training in data and computational science, amplified by a solid grounding in social science, positions MaCSS graduates at a huge advantage in the job market.
Data Stories are Human Stories
In both private and public domains, it's evident that data analysis often overlooks crucial considerations surrounding privacy, bias, societal inequalities, community dynamics, accessibility to health and education, shifts in technology and economy, and the impact of environmental changes on individuals and their communities. 
While computer science and statistics form the foundation of data analytics, they alone fall short in addressing these vital concerns. Incorporating social science theories and methodologies can enhance data analysis, highlighting areas often overlooked with conventional tools. 
Distinct from other graduate programs in data analytics, the MaCSS program prioritizes social science. This ensures not only an ethical approach to data science but also a richer understanding and interpretation of data in the context of pervasive societal challenges.
In a world increasingly relying on data, Berkeley's MaCSS program promises to groom the next generation of data analysts – those who see the stories behind the numbers. 
Tech industry employers find value in MaCSS and its mission
"Data analysis is powerful when people can easily imagine the connections between the data they're analyzing and the social processes they reflect," said Eric Giannella, senior director of data science at Code for America.
Salar Jahedi, principal economist at Amazon, highlights the unique value of MaCSS, "The MaCSS program at UC Berkeley is an excellent way to prepare for a career in data science. With its focus on statistical and computational methods, the MaCSS program gives students the skills they need to analyze social data to inform better decisions.The unique value of MaCSS is its focus on using a social science framework to structure data science projects."
"When your work involves humans, modeling data isn't enough. You need to be able to model people too. MaCSS helps students build and integrate the skills I look for in an analyst," said Jennifer Kurkoski, director of people analytics at Google.
Who Should Apply
The MaCSS program is seeking undergraduate students in their final year of study and early career professionals who are eager to learn new statistical and computing tools and techniques, and to use them to generate new insights into social data and solve real-world problems.
Applicants with an undergraduate degree (or its equivalent) in a social science discipline are encouraged to apply. This includes (but is not limited to) disciplines such as anthropology, demography, economics, geography, history, linguistics, psychology, political science and sociology, as well as interdisciplinary social-science programs like communications, ethnic studies, gender and sexuality studies, global studies, and political economy.
Learn more about MaCSS here.