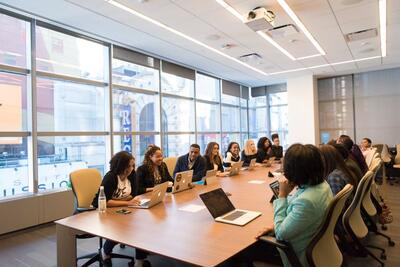 UC Berkeley researchers launched a pioneering interdisciplinary training program this week that will blend criminal justice and computer science in ways that experts say will help reduce long-standing, systemic inequities in the criminal legal system.
The program, called Computational Research for Equity in the Legal System (CRELS), is being made possible with a $3-million National Science Foundation grant. Launched by a multidisciplinary research team that includes Berkeley's Division of Social Sciences, Social Science Matrix, D-Lab, College of Computing, Data Science, and Society, Berkeley Institute for Data Science, Institute for the Study of Societal Issues, Human Technology Futures group, Possibility Lab, Eviction Research Network and EPIC Data Lab, the CRELS program will bring together researchers in the social sciences, computer science and statistics. It will equip a new generation of diverse Ph.D. students with the skills needed to tackle problems at the intersection of inequality, criminal legal systems, data science, artificial intelligence and big data.
"This program leverages Berkeley's expertise in social sciences, data science and AI to bring a transformative approach to the study of criminal justice systems," said David Harding, the grant's principal investigator and chair of Berkeley's Department of Sociology. "We will train doctoral students to harness the power of large-scale data to develop novel interventions to reduce inequities in criminal justice systems and foster a more just society." 
This innovative program aligns with the NSF's Big Ideas, including Harnessing the Data Revolution, Growing Convergence Research and Transforming Education and Career Pathways. It seeks to create a link between these ambitious goals and Berkeley's faculty expertise in the social sciences, criminal legal systems, data science, and the ethics and social implications of AI. CRELS is supported by a $3-million dollar, 5-year grant from NSF's NRT Research Traineeship Program
"We're excited to be at the forefront of this crucial convergence of disciplines," Berkeley Social Sciences Dean Raka Ray said. "The CRELS program reflects our commitment to using data science and technology to address some of society's most pressing social issues, such as the need for criminal justice system reform." 
BIDS Executive Director Ashish Sahni added that this is a great opportunity to do interdisciplinary work while creating knowledge and providing opportunity.
CRELS seeks to examine the use and misuse of AI within justice institutions. This research could contribute to a broader understanding of the social implications of AI, a topic of increasing importance as AI technologies become more pervasive in our society. The program aims to generate new scientific knowledge and develop novel tools for large-scale data integration and analysis. 
The program will not only prepare a workforce capable of addressing complex societal issues with cutting-edge tools, but also contribute to the diversification of the scientific workforce by recruiting and training a broader representation of graduate students in these critical fields and implementing diversity, equity, inclusion and belonging values. 
"By actively building these values into program design, CRELS seeks to enrich the data science workforce, creating inclusive intellectual spaces and expanding opportunities for traditionally underrepresented students," Harding said. "Its innovative approach will shape the future of graduate training programs and foster enduring interdisciplinary collaborations among faculty."
National Science Foundation