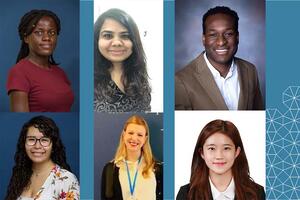 UC Berkeley is proud to announce its inaugural class of Shurl and Kay Curci Foundation Ph.D. scholars. The university received $1.78 million to support this pilot program, providing three years of incoming cohorts of six graduate students with two years of funding.
"It's an honor for UC Berkeley to have been chosen for this program," says Michael Botchan, dean of the Biological Sciences Division, "and it aligns perfectly with our goal — to ensure that our students reflect the diversity of talent out there. Successful research in the life sciences is crucial to solving many issues in today's world, and we need every qualified person on board. I thank the Curci Foundation for helping us with resources to train international students and women destined for the professoriate."
Aware of the vital importance of exemplary graduate students in life sciences research, earlier this year the foundation initiated a scholarship program to provide funding for new Ph.D. students. But its efforts go far beyond simple, across-the-board scholarship support. Believing that all qualified applicants should be included in the life sciences enterprise, the foundation is focusing on two groups that do not traditionally garner the strongest financial support — international students and women. The Curci Foundation Ph.D. Scholarship Program creatively links these two talent pools in its efforts to help train students for the global university. 
The foundation's ultimate goal is to help increase the percentage of women and international students in life sciences Ph.D. programs in the United States. UC Berkeley was invited to participate in the three-year pilot phase, along with UC San Diego and the University of Washington. 
We are excited to introduce the science community to UC Berkeley's inaugural class of Curci Ph.D. scholars. Read their full bios and hear from them here. 
---
Janet Peace Babirye
2nd year, Ph.D.
Molecular & Cell Biology
Janet Babirye grew up in Uganda, Africa. Before starting her Ph.D. program, Babirye obtained a bachelor's degree in biomedical laboratory technology from Makerere University in Kampala, Uganda. She then received a scholarship from the Fogarty International Center in the U.S. National Institute of Health and returned to Makerere University to pursue a master's of science in immunology and clinical microbiology.  After graduating in 2019, she received a fellowship from the Center for Emerging and Neglected Diseases at UC Berkeley. 
---
Lidia Llacsahuanga
1st year, Ph.D.
Molecular & Cell Biology
Lidia Llacsahuanga was born and raised in Lima, Peru, where she majored in genetics and biotechnology. Llacsahuanga developed a keen interest in gene expression regulation after a winter internship at UC Berkeley. Inspired by the cutting-edge research on post-transcriptional gene regulation, she earned several competitive internships in the U.S. and Europe. Llacsahuanga presented her findings in international conferences and once won the Best Poster Award. In Peru, she worked on malaria research, actively going to endemic areas and leading the data management core of the Malaria laboratory.
---
Juliana Martins
1st year, Ph.D.
Molecular & Cell Biology
Juliana Martins was born and raised by her mother and grandmother in Londrina, a small town in the countryside of Brazil. There was nothing more fascinating to Martins than understanding how nature and the universe worked. Her interest in science led her to write a letter to NASA at age 11, expressing her interest in unraveling the mysteries of space and time. Martins holds a bachelor's of science in physical and biomolecular sciences from the University of Sao Paulo, Brazil, and a master's in science in cancer biology from the Ludwig Cancer Research Institute in Sao Paulo, Brazil. 
---
James Mbata
1st year, Ph.D.
Molecular & Cell Biology
James Mbata, who was born in Maseru, Lesotho, is a Ph.D. student in the molecular and cell biology program at UC Berkeley. Mbata attended Cornell University and received his bachelor's degree in biology with a concentration in genetics, genomics and development and a minor in business for the life sciences. In his undergraduate studies, he worked in the lab of John Schimenti under the direction of his doctoral student mentor, Marquita Winters. The group studied the role of the ARID1A gene in mammary tumorigenesis using the Chaos3 mouse model.  
---
Rithu Pattali
1st year, Ph.D. 
Molecular & Cell Biology
Rithu Pattali is from Mumbai, India, where she received her undergraduate degree in biotechnology engineering. Pattali's interest in research burgeoned while she was investigating mitochondrial dynamics in Spinal Muscular Atrophy (SMA) motor neurons that were differentiated from patient derived iPSCs during her master's thesis at the University of Illinois, Chicago. She is broadly interested in epigenome and gene editing and truly believes that leveraging nature's cellular toolbox for genetic manipulation will provide new avenues for combating debilitating diseases in the future.
---
Serim Yang
1st year, Ph.D.
Molecular & Cell Biology
Serim Yang was born and raised in Seoul, South Korea. Yang went to the Seoul National University, where she earned a bachelor's of science in chemistry and biological sciences. For her undergraduate thesis in chemistry, she studied and engineered the biosynthesis of a subfamily of Ribosomally Synthesized and Post-translationally modified Peptides(RiPPs) called Omega-Ester containing Peptides (OEPs) in Professor Seokhee Kim's lab. Her current research interest involves harnessing the tools of chemistry to address challenges in biology, more specifically in cellular metabolism.