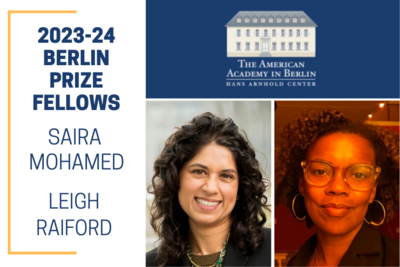 UC Berkeley African American Studies Professor Leigh Raiford and Berkeley Law Professor Saira Mohamed are among the 26 winners of the annual Berlin Prize, semester-long residential fellowships given to top scholars, writers, composers and artists from the U.S. 
Raiford, who is also the director of Berkeley's Black Studies Collaboratory, will work with the photographic archive of Black feminist poet Audre Lorde's time in Berlin – which is housed at the Freie Universität's JFK Institute for North American Studies – as part of a larger project on Black photographic practices and world-making. 
"I am honored and thrilled to receive the gift of time, space and rich intellectual community that the Berlin Prize affords," Raiford said. "After more than a decade of professional visits to Germany, I look forward to reconnecting with many of the scholars and artists who have welcomed me over the years, meeting new interlocutors and building new collaborations."
Raiford is currently completing two projects: When Home is a Photograph: Blackness and Belonging in the World, a monograph under contract with Duke University Press; and Collaboration: A Potential History of Photography, co-edited with Ariella Azoulay, Wendy Ewald, Susan Meiselas and Laura Wexler, which is under contract with Thames and Hudson.
Mohamed, whose research has focused on the intersection between criminal law and human rights, will work on a project sparked by her previous scholarship about mass atrocities committed by soldiers. For as long as "cannon fodder" has been a phrase, international law has treated military service members as expendable resources, she said, leaving them largely untouched by laws that spell out the obligations of states toward civilians and adversaries. 
That leaves soldiers at two poles: Either a hero who's expected to die in the service of the state, or a monster who victimizes the innocent. Mohamed's project will explore the durability of the "cannon fodder" mentality, as well as the failure of international human rights law to adequately address the treatment of soldiers by their states.
"Human rights law should fill this gap," she said. "The idea of human rights law is that every person has rights by virtue of being human, even if what those rights are might vary with the particular context. And so a soldier's human rights might be different from another person — a civilian, for example — but a soldier should have human rights just as any other person does." 
Mohamed was originally awarded the Berlin Prize in spring 2020, but the long-term impact on travel of the pandemic delayed her experience until this fall. She said she's looking forward to the time to think and write and excited about discussing her research with scholars from a wide range of fields, since the residential aspect was a big draw for her. 
"You're very much in community with the other fellows: Sharing a workspace, meals, with so many opportunities to talk about the work, in addition to the formal presentations," she said. "The second thing that really appeals to me is that the Berlin Prize is awarded to a diverse group of fellows — scholars and writers and artists and composers, people from the social sciences, the humanities and the arts." 
Each year the American Academy in Berlin grants around two dozen Berlin Prizes for the fall and spring semesters. The Berlin Prize is awarded annually to American or U.S.-based scholars, writers, composers and artists who represent the highest standards of excellence in their fields, from the humanities and social sciences, to journalism, public policy, fiction, the visual arts and music composition. Chosen by an independent selection committee, the fellows pursue a wide array of scholarly and artistic projects.
The Berlin Prize provides recipients the time and resources to advance important scholarly and artistic projects, free from the constraints of other professional obligations. Fellows work throughout the semester with Berlin peers and institutions in the Academy's well-established network, forging meaningful connections that lead to lasting transatlantic relationships. During their stays, fellows engage German audiences through lectures, readings and performances, which form the core of the American Academy's public program.