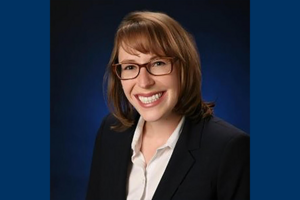 Meg Parker graduated from UC Berkeley in 2010 with a double major in French and Rhetoric, then went on to earn her JD from Georgetown University Law Center.
An attorney specializing in employment law, she is currently an associate at Nye, Stirling, Hale & Miller, where she specializes in handling complex civil litigation in state and federal court. Her practice focuses on employment issues such as wrongful termination, discrimination, and civil rights violations, as well as civil litigation issues such as breach of contract, negligence, and intellectual property.
Please describe your current work.
I'm at a small law firm in Santa Barbara called Nye, Sterling, Hale and Miller, LLP. We primarily do civil litigation, and within that I mostly do employment law, both defense work and plaintiff work.
On the defense side in an employment case, we work with clients who may have had employees claim that they were wrongfully terminated, or discriminated against, or harassed, or that they didn't receive wage and hour protections (like overtime, vacation, or bonuses). When we represent the employer, we do the investigation necessary to see whether something went wrong, or we put together a defense showing that whatever decision was made was done for legal and appropriate reasons.
On the plaintiff side, in addition to employment cases we have handled some civil rights cases in the area of disability discrimination. We have a couple of big cases now where our plaintiffs are blind. The defendants in these cases are using kiosks to check in for various services, and this creates a problem for visually impaired users because the kiosks are difficult or impossible for them to use. So these cases are trying to advocate for changes that need to be made so that the blind and visually impaired can have equity of access to these services.
How do you think your humanities education has influenced your career path?
The theme of both of my undergraduate degrees—Rhetoric and French—is just translation as a larger concept. I may have a mastery of the law, but the client needs that translated into "What should I do? What should I not do? What are the rules and norms around this area of the law?" There's a constant process of strategy and interpretation to take the law and translate it into advice for the client.
Speaking a second language means having a different lens through which to view the world. Do you find that applicable in your current work?
I think about it all the time. Having represented clients both on the defense side and the plaintiff side, I can see multiple viewpoints. I can anticipate directions that our opposing counsel may go in. In cases with a civil jury trial, you're always having to think, what are the jurors going to think? What sort of emotions and perspectives will they bring to this? As an associate at my law firm, I am lucky enough to work with people who are more experienced than me, but this particular skill, approaching a problem from a new angle, is a skill I bring to the table.
Is there a program or a classroom experience that had a major impact on you during your time at Berkeley?
I really enjoyed the Rhetoric department. I took a class on what it means to be a liar, and I took a class on ancient Greek texts, and it was all just fascinating. [Associate Professor of Rhetoric] Ramona Naddaff is amazing. I did my thesis with her, and I had the most wonderful experience. Even though I graduated many years ago, every time my rhetoric degree comes up in conversation, I'm still thrilled to talk about it.
My friends would be surprised if I didn't talk about Phi Alpha Delta, which is the pre-law fraternity. That was a wonderful experience, and it precipitated my interest in law. I have so many friends from Berkeley who went on to law schools all over the country, and now that we're in our careers it's fun to come back to this little club that we were in before any of us ever went to law school.
What advice do you have for arts and humanities students who are getting ready to start their careers?
Think outside the box. It's a cliché, sure, but sometimes you get this impression when you are graduating that X major equates to ABC job or 123 line of work. It's important to bring a little creativity to the process and not pay attention to any critics—including your own internal critic—who may say "that doesn't fit what you studied" or "that wouldn't make sense for you."
If you have these larger skills—like meaning-making, communication, translation, and the ability to look at a problem and see it in different ways—you can do so many different things. And once you find your inner confidence in believing that you do have the skills, it's just a matter of figuring out what you want to do.
You're a steadfast supporter of several programs at Berkeley. What motivates you to give to Cal?
I feel this real sense of community. I love saying "Go Bears!" to people I see wearing a Cal sweatshirt, and I almost always get a "Go Bears!" back.
And I am so happy to consistently see Berkeley innovating and continuing to be on the cutting edge. One thing I love about Berkeley is that they're not content just to follow the formula of what makes a great university. Berkeley is constantly saying "What else is there? How can we identify new areas and excel in those?"
It's funny to think that I graduated in 2010 but it seems like no time at all has passed. Cal left a huge imprint on me in terms of how I think, how I problem solve, and how I approach relationships, be they professional or otherwise. I love my school, and I'm so proud to be a bear.
Division of Arts & Humanities