Jennifer Carlson Ph.D. '13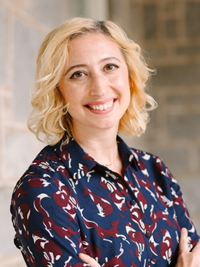 Carlson was recognized for her research on "the motivations, assumptions, and social forces that drive gun ownership and shape gun culture in the United States." Carlson has been closely studying gun culture for over a decade, conducting research with gun owners, gun sellers, survivors of gun violence and law enforcement.
According to the MacArthur Foundation, "Jennifer Carlson is a sociologist reconfiguring our understanding of gun culture in the United States…With her balanced and rigorous approach, Carlson is a sought-after voice on the nuances of gun culture in the United States. Carlson's insights into how gun ownership has become a highly charged political issue offer a potential path toward overcoming the entrenched social divisions that characterize gun policy discussions."
Carlson earned her doctorate from UC Berkeley's Department of Sociology in 2013, pursuing the topic of guns in society for her dissertation.  
"As a Berkeley graduate student, I was trained to push the boundaries of sociological inquiry. Few sociologists studied guns in society when I started my dissertation at UC Berkeley, and few saw the potential merit in pursuing that line of inquiry," recalled Carlson. "But UC Berkeley, and the unflappable mentorship of my advisor Raka Ray (now Dean of the Division of Social Sciences), provided me with the support and inspiration to take this path less traveled. Perhaps more than anything else, the MacArthur Fellowship attests to the value of taking intellectual risks and the importance of intellectual community in supporting scholars who do so." 
P. Gabrielle Foreman '92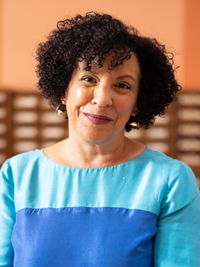 As a graduate student in UC Berkeley's Department of Ethnic Studies in the early '90s, Foreman was among the first to earn a Ph.D. in her program. 
"I was trained by people counted as founders in their fields: Barbara Christian in Black women's literature and culture, Genaro Padilla in early Chicano literary studies, and Ron Takaki in Asian American history, as well as by Earl Lewis, one of the most preeminent institution builders and historians of his generation," said Foreman. "All of these scholars were visionaries. They taught students who were listening to not accept limits, to be accountable to those we study, to honor the expertise and knowledge in the communities we came from, to center ethics and people and the next generation as you build a field. They passed on a baton I've tried to carry. All of what I learned in ethnic studies is central to what I do and how I do it."
Foreman is recognized by the MacArthur Foundation for "recovering early traditions of African American activism. Across her varied body of work, Foreman seeks to understand the power of collaborative production of knowledge, and to that end, she forges collaborations between writers and readers, artists and viewers, and among established, independent, and emerging scholars." 
Foreman's research largely contributes to the Colored Conventions Project, an initiative for which she is the founding director. Through transcriptions and documentation of records, the Colored Conventions Project helps preserve the history of Black organizing efforts dating back to 1830. "Foreman is setting a new standard for digital and collaborative humanities scholarship while also uncovering histories of African American organizing that are still relevant and resonant today," cites the MacArthur Foundation.
"I've spent my professional career at the intersection of these three areas—bringing buried Black history to life through digital archives, exhibits, and curriculum with the Colored Conventions Project, working with educators and poets to bring that history to the stage in performances and the arts, and partnering with community-based organizations to shift traditional paradigms of collaboration with universities," said Foreman. 
Being honored with a 'genius' grant was not something that Foreman had anticipated, despite all of her leadership and scholarship in this area. 
"There are no words to express what it means to be selected for this particular award, and I'm what I call a "wordie." I'm the child of a poet; expressive inadequacy was not OK in my household," said Foreman. "MacArthur awardees are chosen from the arts, the public sector, and from a wide array of scholarly areas. To join a select cadre of changemakers and creatives from across the areas the MacArthur Award honors? There's nothing more humbling."
Priti Krishtel '99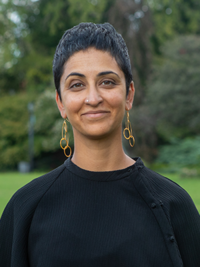 Krishtel received her undergraduate degree in political science at UC Berkeley and earned a JD from New York University School of Law prior to co-founding the Initiative for Medicines, Access, and Knowledge (I-MAK) in 2006. 
Said Krishtel, "There's a turning point in every person's life. Mine happened at Cal, when I took constitutional law taught by political science graduate student Bronwyn Leebaw. She had us read Simple Justice, a book about the Supreme Court case, Brown v Board of Education. The discussions we had in class shaped my love for the law as a tool for justice. With a lot of mentorship and patience from Bronwyn, I applied to law school and graduated in 2002. Twenty years later, here we are!"
The MacArthur Foundation recognized Krishtel for "exposing the inequities in the patent system to increase access to affordable, life-saving medications on a global scale." Through research, education and policy, Krishtel's organization I-MAK is committed to "finding solutions to address structural inequity in the medicines system" and has spent nearly two decades litigating and winning cases for health justice around the world. 
"I-MAK brings together a range of stakeholders – including patient groups, policymakers, and patent lawyers and judges – to deepen collective understanding of the impact of the patent system across different communities," the Foundation said on its website.
Krishtel told Berkeley Letters & Science, "I'm still absorbing this incredible news, I think it will take time to understand what this means for the work, and for me. This award is a validation of the access to medicines movement's work, it signals validation for our work to reform the patent system to ensure health equity."