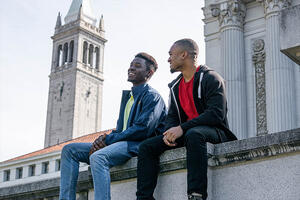 From ASUC Student President and political economy major, Chaka Tellem: 
The tumultuous nature of politics, the pandemic and national movements has made your being here, striving for higher education, a more impressive feat than ever before. I can say without a doubt that remote learning has not been easy for many of us. I mean, when I first came to Cal, I didn't expect to be spending most of my time in breakout rooms.
Even the strongest of us have struggled with acclimating to a reality in constant flux, where everything we dreamed of experiencing was lost, from graduations to senior proms. Yet, with meaningful sacrifice comes even greater reward, starting with some of the best years of your life here at the University of California, Berkeley.