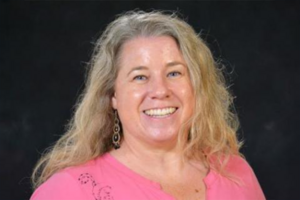 Sharon Mueller, a longtime director of advising, has been appointed the inaugural assistant dean of advising in the College of Letters & Science (L&S). Mueller begins her service on August 1, 2023. 
As the assistant dean of advising, Mueller will help lead strategic planning and vision setting for the L&S undergraduate experience, manage the Office of Undergraduate Advising, and support campus-wide collaboration and engagement. This position supports and aligns with the L&S undergraduate strategic priorities of Belonging, Wayfinding and Scholarly Engagement established in the Division of Undergraduate Studies' strategic plan. 
In announcing the appointment, Executive Dean Jennifer Johnson-Hanks commended Mueller's exceptional commitment to advising and to UC Berkeley. "Sharon's deep understanding of the Berkeley advising ecosystem, her demonstrated success within her College and across campus, and her commitment and active implementation of equity-oriented advising with an ethos grounded in DEIBJ distinguished her among the applicants for the role which she will shape and inform in the coming years."
Mueller brings decades of advising experience to this new position, including her most recent role as the Director of Advising and Policy in the College of Engineering. Since 2016, Mueller provided leadership, assessment and strategic planning for advising, curriculum and policy. She was regularly called upon by deans, chairs, faculty and staff to provide high-level counsel and analytical support to ensure comprehensive and consistent service to meet the changing needs of a diverse student body and the campus. 
In a statement submitted to the search committee for the assistant dean of advising role, Mueller wrote: "As a candidate who has worked in advising at UC Berkeley for 32 years, I believe that this position is the culmination of every step I have taken in my career…I am passionate about creating pedagogical pathways and integrated, holistic support for all students who are admitted to UC Berkeley."
Mueller has also contributed to key initiatives with campus-wide impact, including the development of the BOA online student tracking system for academic advising, emergency COVID grading procedures, and co-chairing the Golden Bear Experience Academic Advising Committee. In recognition of her service and contributions, she has received the Excellence in Management Award, the Mary Slakey Howell Excellence in Advising Award, a Distinguished Service Award, and multiple STAR and SPOT awards. 
Mueller's move to the College of Letters & Science brings her full circle, as she obtained her BA in psychology and social welfare from L&S in 1992. She is enthusiastic about her return to the College and is especially excited to work with the L&S advising team. "I have had the pleasure of working alongside several of the staff in L&S Advising in recent years, and I look forward to partnering with the L&S advisers to find ways to support them in their work and enhance the undergraduate student experience."