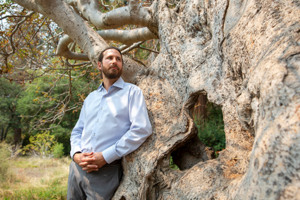 For Peter Nelson, stepping foot on the UC Berkeley campus last January as a new faculty member, after 3 1/2 years on the San Diego State University faculty, was a return to his alma mater, where he earned his master's and doctoral degrees in anthropology. 
Returning to Northern California from San Diego also was a homecoming, since Nelson is Coast Miwok and a tribal citizen of the Graton Rancheria community, a federation of the Coast Miwok and Southern Pomo peoples of Marin and southern Sonoma counties.
Berkeley's proximity to his ancestral territory is a plus, said Nelson, a Santa Rosa resident who is the first and only hire, so far, for the campus's new Native American and Indigenous Peoples cluster. "It's a huge consideration for Native faculty," he said, "trying to maintain connections with family, the ceremonial cycles, religious ties, food systems, and participation in traditional culture."
Nelson is an assistant professor of ethnic studies and of environmental science, policy and management whose research — at the intersection of anthropological archaeology, Indigenous environmental studies and Native American studies — touches upon environmental stewardship.