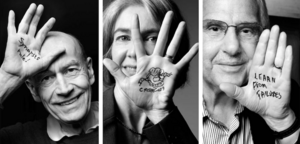 UC Berkeley CRISPR pioneer Jennifer Doudna is one of 60 Nobel Prize winners captured by renowned German photographer Herlinde Koelbl in striking black and white portraits that spotlight on the palms of the scientists' hands their discoveries and insights.
Forty of these unique portraits will be on display in the second-floor atrium of Berkeley's Li Ka Shing Center starting today (Friday, Sept. 15) through Monday, Oct. 16. The building is at 1951 Oxford Street, near the campus's West Crescent. The atrium is open to the public Monday through Friday, 7 a.m. to 6 p.m., and the exhibit is free.
The traveling exhibit, "The Fascination of Science," is being hosted by Berkeley's Henry Wheeler Center for Emerging and Neglected Diseases and the German Consulate General in San Francisco.