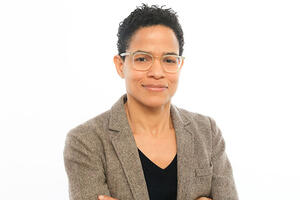 Nikki Jones, a celebrated scholar and professor at UC Berkeley, was appointed the H. Michael and Jeanne Williams Professor and Department Chair for African American Studies in the College of Letters & Science. 
H. Michael Williams '82, former UC Berkeley Foundation Trustee, Director of Cal Athletics and retired global financial services leader, remarked, "As my wife Jeanne and I considered investing in the College of Letters & Science many years ago, we learned more about the impactful, leading-edge scholarship produced by the African American Studies department. We are excited that Professor Jones will carry on this leadership and continue to steward the department on a transformative mission."  Mike and Jeanne are Builders of Berkeley with a long history of supporting marginalized and underrepresented students at UC Berkeley. 
An acclaimed sociologist and criminologist, Jones earned her Ph.D. from the University of Pennsylvania. Her area of expertise includes a special emphasis on the intersection of race, gender, and justice, and her work has centered the experiences of Black women, men, and youth as they are confronted by the criminal legal system, policing, and violence. An award-winning author, Jones's most recent book, The Chosen Ones: Black Men and the Politics of Redemption (2018), received the Michael J. Hindelang Outstanding Book Award from the American Society of Criminology in 2020. 
Jones is also a faculty affiliate with the Center for Race and Gender; the Department of Women and Gender Studies; and the Center for the Study of Law and Society at UC Berkeley. She is the past Chair of the American Sociological Association's Race, Gender and Class Section (2012-13) and has served on the editorial boards of the American Sociological Review, Gender & Society, and Feminist Criminology
Advancing Black intellectual tradition
Jones has been a faculty member in the Department of African American Studies in UC Berkeley's Division of Social Sciences since 2014. She previously taught at UC Santa Barbara in the Department of Sociology and was drawn to the African American Studies department at UC Berkeley for its deep-seated, decades-long commitment to Black feminist thought and the Black intellectual tradition.
"As I considered making a shift from sociology to African American studies, I wanted to be in a space that was a bit more critical, where I would be confronted by colleagues and questions that would allow my work to grow and evolve in a way that I felt it really needed to," said Jones. 
"The most critical, textured, sophisticated analyses of Blackness are happening in departments of African American Studies and Black Studies everywhere, but I was drawn to this space at UC Berkeley in particular. Our department has a rich history in Black feminism with faculty like Barbara Christian, Vèvè Clark, June Jordan, and Margaret Wilkerson. I wouldn't have been drawn to just any department of African American Studies in the country—there was definitely something about the tradition of this department and how it continues to thrive that drew me here." 
Transformative visions for the future
In her new role, Jones strives to build on the department's endeavors to examine and advance knowledge pertaining to the Black community through excellence in scholarship and pedagogy.  
"In the wake of the uprisings of 2020 and the pandemic, we needed transformative visions. Some people were coming to these questions for the first time, but our department had already been doing this work in between the crises," said Jones. "At that moment, I was really heartened by the support we got from the institution, from the chancellor's office, and from Dean Raka Ray."
Fueled by current events and the call to "think critically about how institutions and systems can support an abolitionist future and affirm Black lives," the Abolition Democracy Initiative (ADI) was launched in fall 2020. The ADI upholds the African American Studies department as a national leader in these important conversations and provides "models of rigorous anti-racist and interdisciplinary research that centers Black humanity...to help us reimagine the future of community safety and support the well being of historically marginalized communities." 
Jones shared, "The entire department came together to shape the proposal for the Abolition Democracy Initiative, enabling us to be in community together in a way that is generative and life-affirming. This went from an idea to a proposal to people around the table together in the kinds of relationships that sustain us. It also helped us to create visions for the future—we may not be around to realize them, but once the ideas are out there, they have space to live and can be taken up at any moment. In doing that, we are part of this tradition of Black study and studies."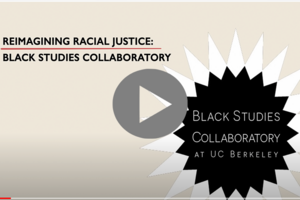 In January 2021, the African American Studies department was awarded a $2.87M grant from the Mellon Foundation, and under the leadership of Professors Leigh Raiford and Tianna Paschel, established the Black Studies Collaboratory. The Black Studies Collaboratory is a three-year project aimed towards "amplifying the interdisciplinary, political, and world-building work of Black Studies." 
This year, the African American Studies department has continued engaging the community while honoring the legacy of the late activist and longtime faculty member, June Jordan, in its 2021-22 Critical Conversations series
Looking forward to her new role, Jones said, "As chair, part of my job is to elevate and amplify the work of my colleagues. I'm excited about our work and I love our department. There are always challenges that come along with any leadership position but I feel that as a leader, I'm in the right place at the right time, surrounded by an outstanding group of people -- faculty, staff, and students."
More information about the African American Studies department is available on their website and you may support their faculty and students here