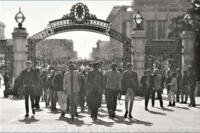 Latinx people, who today comprise roughly one in five U.S. residents, are forecast to soon account for three-quarters of net new workers and are increasingly pursuing higher education. 
But despite a growing need for research on everything from public policy to the history of Latinx communities, less than 4% of all four-year colleges and universities in the U.S. offer a Latinx studies major, according to new research from the University of California, Berkeley. 
In addition to a dearth of new programs, those that do exist are often underresourced and sometimes staffed solely with temporary lecturers instead of core faculty. Such "shell programs" stymie program planning, hinder recruitment of top scholars and inhibit research that would otherwise inform policies affecting more than 62 million Latinx people in the U.S., said G. Cristina Mora, a UC Berkeley associate professor of sociology and lead researcher on the study.
"If you don't know your community, if you don't know your history, if you don't know these aspects of where it is that the community has come from or how it's doing or whether it's a community at all," Mora said, "it's hard to know the future."
Read more below >