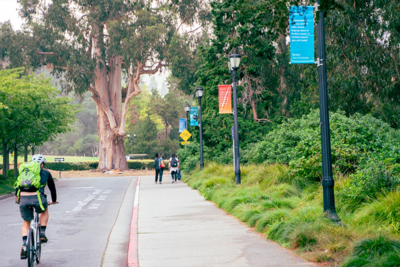 At least 60 languages — from Mongolian and Old Norse to Polish, Catalan, Ancient Egyptian, Arabic and Biblical Hebrew — are taught at UC Berkeley, one of the nation's top institutions for the breadth and depth of its world languages program. A growing emphasis also is being placed at Berkeley on revitalizing and preserving endangered languages, most of them spoken by Indigenous peoples.
To help honor more than 150 years of global languages at Berkeley, 63 colorful banners will begin flying throughout campus today, and for the next 18 months, that feature facts about the campus's language programs, as well as 21 bilingual and multilingual faculty members, students and alumni.
Among the messages on the banners:
Collectively, undergraduates at UC Berkeley speak more than 220 different first languages.
More than 500 language learning classes are taught at Berkeley annually.
More than 6,000 Berkeley students enroll in those classes each year.
In 1872, the first endowed chair in the UC system was created — for the study of East Asian languages at Berkeley.
Students at all UC campuses can take online African language classes at Berkeley, which is well-known for Amharic, Igbo and Swahili instruction.