L&S Student Spotlight: Ethan Willbrand '21
Majors: Psychology (Social Sciences Division) and Molecular & Cell Biology (Biological Sciences Division)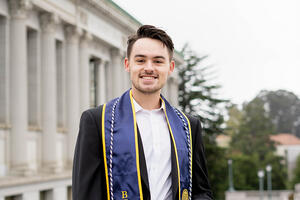 From the moment he completed his first psychology class in high school, Ethan Willbrand knew he wanted to learn more about the brain and to explore how humans think and act. But it wasn't until Willbrand began his academic career at UC Berkeley's College of Letters & Science that he discovered his passion for neuroanatomy as well. 
"Professor David Presti's Brain, Mind & Behavior class was my first experience with neuroscience and I loved it," says Willbrand. "I love how we can find understanding in human behavior just by exploring this one organ in our head. Combining psychology with molecular and cellular biology allowed me to get the best out of both worlds and gain a complete perspective of neuroscience: from the cell to human behavior."

Lab discoveries as an undergrad 
At the number one public research university, it is not unusual for students to gain hands-on experience in a research lab while attending UC Berkeley. However, it is not every day that undergraduate students have the chance to not only participate in research but also to make a tangible impact on their field. 
"Before I came to Cal, I never thought of myself as a scientist, never mind that I'd have a chance to contribute to a field that I'm still learning about," says Willbrand. But when invited to join Professor Kevin Weiner's lab, he jumped at the chance. "Professor Weiner's love for cognitive neuroscience really got me excited about research. I'm interested in pursuing an M.D.-Ph.D. degree program because of him. I want to treat people with neurological disorders and help them live better lives, but I also want to contribute to our understanding about what is happening behind the scenes and improve how we can help through novel research."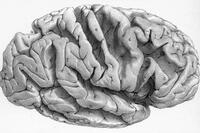 In the cognitive neuroanatomy lab, Willbrand's work focused on understanding the relationship between the anatomy and function of the brain. Specifically, they studied a particular region of the cortex — the outermost layer of the brain. As he put it, "Professor Weiner's work is at the forefront of studying these indentations called "sulci" in the cortex, so we gave these structures an in-depth look." They examined hundreds of hemispheres of the brain across hundreds of participants, aiming to understand how these sulci were organized." As Willbrand describes it, "You might say it's like understanding the geography of an area before you characterize the details. It's about studying the organization and how and why it's laid out physically." 
After gaining so much experience in this particular region, Willbrand was invited to help mentor a fellow undergraduate student. "I was very humbled that Professor Weiner felt that I was ready to help someone else," he recalls. "While working on finishing and preparing my thesis for publication, I was able to help another student who was working on studying the brains of autistic participants. In fact, I'm still working with him and it's been very rewarding." 
Willbrand's work, mentorship, and subsequent thesis helped him earn the department citation in psychology, which is "awarded to the top undergraduate based on all aspects of academic life including research, coursework, writing, and service to the university." From his department:
"In terms of "distinction," Ethan's thesis and forthcoming peer-reviewed paper are at a post-doctoral level in terms of impact. He has identified a new neuroanatomical structure, which serves as a microanatomical and functional (it is part of a brain network that is critical for cognitive control) landmark with developmental and evolutionary insights." 
Reflections as a Double Major at L&S
Willbrand is enthusiastic about the positive impact of pursuing two majors, and especially psychology and molecular and cell biology. "I found those classes to complement each other well," says Willbrand. 
He also reflected on how other aspects of undergraduate life supported his academic experience. "At L&S, you have the opportunity to go deeper into your interests and to go broad within your studies - this can help you in ways you didn't anticipate. For example, the English classes that I took were really helpful. Especially in science, it can be hard to talk with people about what I'm learning about and communicate clearly with the lay public. It was essential for me to learn how to share this information, even with my family."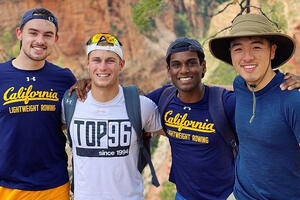 When asked about other experiences he'll cherish, Willbrand is quick to point to rowing. "Athletics is probably the most important aspect of my life here, aside from academics and research." Willbrand joined the Cal Lightweight Rowing team his freshman year with friends that he met at orientation and immediately loved it, despite 5 am practices before class. "Being able to race with my teammates was amazing, and I definitely miss being on the water with my buddies," says Willbrand. "My life has always had an athletic anchor," he says. "It's a way to organize my time and keeps me healthy and active." 
In the fall, Willbrand will be returning to Berkeley to continue his work with Dr. Weiner, as a lab manager. "I'll be continuing my research and preparing to apply to grad school." Until then, he's looking forward to a short break this summer. 
Words of Advice
Don't let self-doubt hold you back. Willbrand encourages students to consider classes that will challenge them, even if it's scary. "I hated science classes in high school because they terrified me, but then I came to Cal and decided to try it. And I found out I'm good at it!"
Take advantage of office hours. "Professors may seem intimidating, but they are actually nice and want to talk about their work. Always go to office hours when you can - that's how I got my lab position and chance to work in a lab," says Willbrand. "At Berkeley, your professors are some of the smartest people you'll ever meet - we have Nobel laureates on our faculty. But, they make time to talk with students, which can change what you think you want to do. Take the time to really get to know your professors." 
Make every moment count. "You're on limited time from the moment you get here, so make the most of every moment. Many of us are only here for four years, and time flies by. Be sure to experience all of these different opportunities and take everything in."