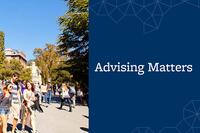 Congratulations to our fellow community members in the College of Letters & Science recognized as 2020 and 2021 Excellence in Advising and Student Services Awards winners! According to UC Berkeley's Council of Advising and Student Services, these awards acknowledge "the positive and innovative impact our recipients have on student learning, engagement, and belonging on the Berkeley campus." The recipients will be formally recognized at an online celebration on Wednesday, December 15 at 1:30-3:00 p.m. PST via Zoom. Please RSVP here for the event and/or share a word of gratitude on this Kudoboard. 
Our sincere gratitude goes out to the following L&S award recipients:
Equity Champion
Brenaia Blue, Office of Undergraduate Advising, College of Letters and Science
"Brenaia has a wealth of office and institutional knowledge and has extended herself to champion diversity and equity whenever possible. While current events have affected our ability to connect personally with students, Brenaia has consistently maintained student support to those who may be inadvertently absent from previous efforts, and has been inclusive of all students. In addition to her own efforts, Brenaia has facilitated opportunities for her colleagues to join her in supporting diverse student populations and is a passionate and vocal advocate of equity. Brenaia is an inclusive, and adept adviser that pays attention to detail to deliver consistent care and service."
Virtual Advising Innovation
Virtual Advising Front Desk Team

: Sonya Scott, Phuong Tang, and Darshani Alahan (leads); Cat Ming Hubbard, Rachel Remillard, Anna Sanderson, Magali Mercado, Lauren Ash, Brittany Kulusich, Briana Chavez, Silvia Guzman, Jesús Arciniega, Brandilyn Gilbert; Office of Undergraduate Advising, College of Letters and Science

"While COVID inevitably required advising offices across campus to leverage technology, none did so to the scale and magnitude of the L&S Office of Undergraduate Advising's Virtual Front Desk. The L&S Virtual Front Desk team worked closely together to transform student services. These innovations ensured service during COVID and will continue to influence improvements to service delivery for years to come. Many COVID-inspired innovations were "almost as good" as in person. The L&S Virtual Front Desk is actually much better than what we offered in person before COVID, and will be a key part of our serving our 23,000 students going forward."
Success with Less
Amanda Minafo

, Departments of Italian Studies, Scandinavian, and Slavic; Celtic Studies Program, College of Letters and Science

"Despite a shrinking staff and incredibly complex advising position, Amanda is innovative and welcoming in her advising of the students in our four departments, covering nine major and eight minor tracks. She recently streamlined a number of forms of advising information online, and she voluntarily participated in L&S Advising events for which she was praised. Her dedication to excellence is reflected in her caring, professional, and inclusive interactions with students and others. The core competencies, goals and principles of Berkeley Advising have been clearly demonstrated in the direct experiences of both Amanda's students and her fellow campus colleagues who have collaborated with her."
Christine Mullarkey & Jennifer Ochoa

, Department of Psychology, College of Letters and Science

"The dynamic duo of Christine and Jennifer has saved the Psychology department thousands of dollars over the next years through their innovative rethinking of the major admission process. While the department stands to save money for no longer licensing database software, our students gain much from the new process. Admissions decisions are now made on a rolling basis. Students have the opportunity to connect with advisors in developmental conversations that promote engagement with the department, personalized advising based on goals and interests, and increased awareness of the myriad offerings available to them within the department and across campus."
Interdisciplinary Social Science Programs Team

: Nithya Raghunathan, Dreux Montgomery, Alex Maurice, College of Letters and Science

"The advising team for Global Studies and Political Economy have been working with reduced staffing since the Pandemic began. The advisors pulled together with fantastic camaraderie to keep the advising program running smoothly. They reviewed and simplified processes to make procedures easier for advisors and students. These included on-line forms and records, infographics that help students understand administrative processes, simplification of the website and the handbook, creation of peer advising programs, greater use of google docs to share information. They did these innovations while continuing to provide excellent service to students at a time when students are much stressed."
Outstanding Peer Advisor, Mentor, Counselor, or Ambassador
Daniel Legrand

, Department of Music, College of Letters and Science

"Daniel Legrand is an award-winning advocate and peer mentor in the Music Department. Drawing on his training as a certified Intercultural Development Advisor, Daniel provides exceptional support and guidance to his fellow students. Since 2014, he has consistently worked to build community and solidarity among graduate students in the Music Department, and has been a leading voice for graduate student professionalization. He is a thoughtful intellectual interlocutor, forthright advocate, and loyal friend. As one peer wrote: 'I am lucky to have Daniel as a colleague and friend, and the Music Department is better as a result of his presence and labor.'"
Excellence in Data and/or Research-Driven Student Services
Jacqueline Chang & Elizabeth Olin

, Office of Undergraduate Advising, College of Letters and Science

"The L&S OUA Analyst team of Jacqueline Chang and Elizabeth Olin have been instrumental in creating a burgeoning culture of assessment within L&S OUA. Their work is critical in supporting L&S's ability to make progress toward strategic goals, through consulting with staff on assessment strategy and helping our staff better understand the importance and power of meaningful program assessment, and providing data to the management team to inform decisions around how best to leverage our resources to align with student needs, ranging from planning appointment availability to deciding which programs to continue investing in and which areas to scale back."
Service to the Advising and Student Services Community
Ken Mahru

, Department of History, College of Letters and Science

"The most current and relevant is Ken's work on the GSAO coordinating Committee as onboarding subcommittee chair. In this role, he is working with other GSAO to develop best practices and resources for onboarding people in this complex role. Ken has been recognized individually 9 times via the SPOT award for his roles in his department but I believe this work extends beyond department support. Ken is part of a community of practice on campus for Graduate Diversity. I have witnessed, Ken support other GSAO's who were down staff, in transition, and even his outgoing department in answer questions and problem solving complex funding, academic, and Grad Div policies."
Advising Champion (Faculty/Administrator)
Professor Martha Olney, Department of Economics, College of Letters and Science
"Amidst one of the most challenging times in recent history, Professor Martha Olney continues to be the strongest ally and advocate of undergraduate advising and students in the Economics department. More specifically, her work during this remote learning period has been paramount. She works tirelessly to adjust policies and minimize the negative impacts of the pandemic on students' pursuit of the Economics major. Martha's empathetic and proactive approach to supporting students and advisors is not unique to the remote learning period; this is simply how she works. She is a true 'Advising Champion.'"
Outstanding New Advisor or Student Services Staff
Grayson Johnston

, Department of Rhetoric and Film & New Media, College of Letters and Science

"Under these extraordinary circumstances, Grayson served our students with unwavering academic and basic needs support, sustaining our diverse student body with compassion and steadiness. The extraordinary care that Grayson demonstrated throughout the pandemic has made him our frontline staff member to coordinate the drastically changing needs of students and instructors. As a direct result of Grayson's extraordinary work, all our 2020 Rhetoric seniors graduated on time. All our Honors Program students completed their Honor's Theses on time. The Rhetoric undergraduate student community exudes with positive energy and collegiality, in no small part due to Grayson's unrivaled dedication to them."
Jessie Rosales

, Office of Undergraduate Advising, College of Letters and Science

"Jessie's impact reaches far beyond the 23,000+ students we serve & will have a lasting effect for years to come. In his seemingly endless roles and responsibilities, what stands out is how he makes students feel cared for, capable and seen. Among peers, he's known for being student-centered, organized, knowledgeable, innovative, a resource to colleagues, and generous with his gifts. He's created manuals, transition guides, and streamlined process in every aspect he's ever had a hand in at L&S Advising. Students say he's 'kind and caring' and makes them feel 'hopeful and capable.'"
Monica Albe

, Department of Integrative Biology, College of Letters and Science

"Grad school is hard, and sometimes it feels like you're wandering alone through a dark tunnel. Monica is like a light that guides you out and helps get you back on your feet. She is always supportive and goes out of her way to ensure grad students have a positive experience and the support they need."
Outstanding Advisor or Student Services Staff
Amy Louise Azuma

, Office of Undergraduate Advising, College of Letters and Science

"Amy Azuma is known for her ability to deeply engage students through a developmentally tiered advising approach, and for her dedication to her own continuous learning and growth. She has been nominated in recognition of her exemplary one on one advising and her pioneering work in engaging the campus in support of sophomore students, a traditionally overlooked population. Among the supports she has spearheaded is a unit bearing, strengths-based course for sophomore students that engages a cultural wealth model and fosters self-reflection and connection to the campus community."
Hannah Bloom

, Department of Molecular & Cell Biology, College of Letters and Science

"Hannah has made an indelible impact on the MCB graduate program in her time as Graduate Student Services Advisor and is considered by many to be the cornerstone of the program. She is a genuinely caring person dedicated to providing an inclusive and welcoming environment for students. She can deftly manage the many complexities of her role, and she has become the expert on matters critical to student and faculty needs. While this is all a testament to the high caliber of her work, what sets her apart is her passion for helping students and for making the student experience as positive and rewarding as she is able. She imbues empathy and compassion in all that she does and is widely respected and trusted for the integrity of her work."
Mario Eusebio

, Biology Scholars Program, Department of Integrative Biology, College of Letters and Science

"Mario embodies all the characteristics of an ideal staff advisor and public recognition for his investment in students is long overdue. He is kind, empathetic, and genuine towards anyone who comes to him for help. He is generous with his time, resources, and advice. Without a doubt, he has played an impactful role in supporting numerous students, especially the underrepresented and minority, and helped them achieve success at Berkeley and beyond."
Nithya Raghunathan

, Interdisciplinary Social Science Programs, College of Letters and Science

"Nithya supports students in the Political Economy and Global Studies programs by providing personalized, comprehensive, caring advising. She has a positive impact on student learning, engagement, belonging, and success through her special initiatives in developing a Peer Advising Program; launching Undergraduate Research Opportunities Information Sessions; and regularly communicating with all our students through coordinating and editing the weekly electronic newsletter that includes a wealth of useful information and opportunities. Nithya's advising is consistently student-centered and she approaches her work in an ethical and equity-oriented manner."
Zachary Chestnut

, Department of Integrative Biology, College of Letters and Science

"Zac goes above and beyond the role of an advisor in many ways. He uses his biology background to evaluate transfer students' biology courses and suggest improvements to the IB curriculum. He uses innovative technology skills to improve our processes and the student experience by continually improving the website and our internal database, implementing new tools, like our drop-in sign-in form, and assessing data gathered by our office. But above all, he is an excellent mentor and advocates for IB students."
Outstanding Advising or Student Services Team
College of Letters and Science Office of Undergraduate Advising

: Roseanne Fong, Christina Teller, Maria De Palma, Mecca Shakoor-Cook, Isela Pena-Rager, Elizabeth Olin, Philaine Seher, Greg Cera, Mark Gotvald, Brittany Kulusich, Rachel Remillard, Michelle Logarta, Marisol Silva, Charles Williams, Heidi Church, Jane Paris, Joanna Morales Fernandez, Jessie Rosales, Devi Swamy, Megan Braverman, Darshani Alahan, Amy Azuma, Tim Cahill, Anthea Yugawa, Torey Bookstein, Ramona Askew, Angela Archuleta, Jesús Arciniega, Maire Lanigan, Brenaia Blue, Floriberto Javier García, Ulises Serrano, Phuong Tang, Kendra Van Nyhuis, Silvia Guzmán, Brandilyn Gilbert, Anay Martínez, Sonya Scott, Lauren Ash, Briana Chávez, Magalí Mercado, Anna Sanderson, Emilio Alvarado, Luís González, Wendy Hernández, Jacqueline Chang. Graduate Mentors: Mathilde Andrews, Alyssa Bormann, Patrícia Gomes, Bridget Martin, Lesdi Robledo, Jasmine Sanders. Undergraduate Student Workers: Joanne Van, Julia Zhu, Gracie Balistreri, Sophanit Getahoun, Mellisa Mulia, Landon Shea, Berenice Barajas, Christopher Bledsoe Tice-Raskin, Aeri Hong, Elan Barnett, Kristen Clure, Jocelyn X. Li, Maggie Tsao, Monica Gao, Tiffany Tian, Elysa F. Dombro, Saffanat Sumra, Candice Lee, Lauren H. Zane, Quest Dibley, Ananya Narayanan.

"Compassionate, innovative, collaborative, tremendously knowledgeable, and love-centered. These are words that merely begin to describe the most inspiring advising team of 2020. L&S Advising has taken a data-driven and theory-informed approach to student services thanks to re-energized leadership who hired a second full-time analyst and a number of advisers and other staff of color who expertly balance the nuance of being dean's representatives and student advocates. L&S Advising boasts a large team of diverse leaders, which comprises knowledgeable and skilled student workers, graduate mentors, analysts, administrative staff, advising assistants, managers, and both intake and college advisers who work tirelessly in service of 23,000+ undergraduates."
The Mary Slakey Howell Excellence in Advising & Student Services Award
Leah Carroll

, Office of Undergraduate Research & Scholarships, College of Letters and Science

"For 20 years, Leah has been an exemplary advocate for undergraduate research. As the manager of the Haas Scholars Program, she mentors high-achieving, low-income students. Over 80% of the program's alumni have gone on to pursued advanced degrees. A recent graduate wrote, 'Educators like Leah are the reason UC Berkeley shines brightly as an institution of higher learning.' Her impact can be measured in the workshops she leads and in the research opportunities database she created—both of which serve thousands of students every semester. In observing Leah's advising practice, a colleague commented, 'Leah does not make assumptions, is inclusive in every way, and is selfless in sharing opportunities.'"