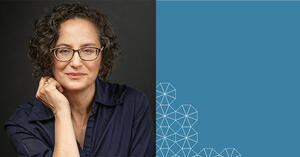 It was fall 2019 when Katherine Snyder, an associate professor of English at UC Berkeley, first taught her course Climate Fiction. Wildfires were blazing across California, prompting a series of public safety power shut-offs across the state. At Berkeley, classes were canceled for several days, and when students came back to campus, the skies were a deep, hazy orange.
In addition to Climate Fiction, Snyder has also taught science fiction and post-apocalyptic fiction classes.
"There was nothing theoretical about our interest in this material," said Snyder. "It was very live."
Snyder, who joined the English department in 1993, had taught science fiction and post-apocalyptic fiction, but this was the first time she'd created a class explicitly about the human experience in relation to environmental change.
"One thing that the humanities can contribute to the more science-based disciplines is that we look at the more imaginative aspects of responding to the world and envisioning the world," Snyder said.
Berkeley News talked with Snyder about her Climate Fiction course and the challenge of teaching a subject that explores the devastating consequences of climate change.