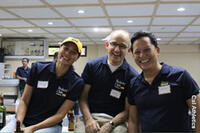 Akiko Thomson-Guevera continues to give back to the sports world, years after hanging up her goggles.

An iconic figure in the Philippines and beyond, the Cal women's swimming alumna and three-time Olympian enjoys helping the next generation of athletes achieve its dreams. She is currently the president of the Philippine Olympians Association and was also a TV host and journalist for seven years of her post-swimming life.

Born Gillian Akiko Nakamura Thomson, she was one of three children of Hiroko Nakamura, her Japanese mother, and James Marsh Thomson, her white, American father, in Washington, D.C., in 1974. Her parents gave her the middle name of Akiko – which means "Autumn's Child" – in part because she was born in October, and it wound up becoming her given name.