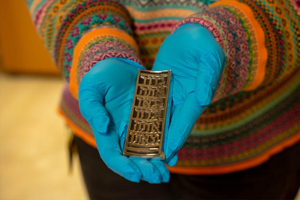 A sacred Jewish object called a mezuzah that is in the collection of UC Berkeley's Magnes Collection of Jewish Art and Life will soon be hung in the official Washington, D.C., residence of Vice President Kamala Harris and her husband, Doug Emhoff.
Emhoff, who is the first Jew to live in an American executive mansion, announced Thursday that he had hung a mezuzah at the entrance to the vice presidential home last month. The one soon to be on loan from The Magnes will be displayed in another part of the historic home.
A mezuzah, which literally translates to doorpost, is a piece of parchment inscribed with Hebrew verses from the Bible that is housed in a case created especially to be affixed on doorposts.
It is one of the items that "make a Jewish home Jewish," said John Efron, the Koret Professor of Jewish History at Berkeley and faculty director of the museum.
"Two things are historic firsts," Efron said. "You've got Emhoff, the first Jewish Second Gentleman, and the request is a first for The Magnes and UC Berkeley, which have never been asked to do something like this before."