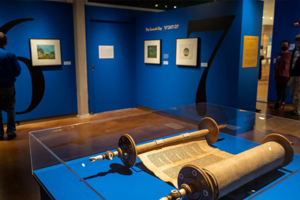 Last December, Hannah Weisman became the first executive director hired by UC Berkeley for The Magnes Collection of Jewish Art and Life(link is external), one of the preeminent Jewish collections in the world. 
Now, nearly three months later, Weisman is busy tackling some tough challenges: how visitors can safely and creatively explore exhibition materials in the COVID era; how to satisfy the needs of diverse audiences; and how to ensure that people feel welcomed and open-minded while being exposed to difficult concepts. 
One of her top goals is to make the collection relevant to Berkeley students and faculty, as well as to the public, including younger students and their teachers, and to the Bay Area's distinct Jewish communities. 
The museum actually houses two collections: a Jewish art collection with paintings, sculpture, photography, works on paper, artist books, and digital and mixed media; and a Jewish life collection with objects representing personal and family rituals, synagogue and communal life, and the social interactions among Jewish and host communities in the global Jewish diaspora throughout history.
As part of a recent interview with UC Berkeley writer Alexander Rony, Weisman, a museum professional who has worked extensively with large collections, most recently at the Boston Athenæum, said The Magnes' holdings "can tell universal stories or ask universally relevant questions about migration, belonging, ritual and the importance of community." 
Berkeley Arts & Humanities Division