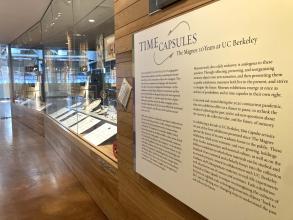 The Magnes Collection of Jewish Art and Life has re-opened to the public with a new exhibition, Time Capsules, The Magnes: 10 Years at UC Berkeley, celebrating 10 years at the University of California, Berkeley
The retrospective is testimony to "the richness and variety of The Magnes, the tireless work of its creative staff, and the vibrancy and diversity of Jewish culture," noted John Efron, Esther and Jacques Reutlinger Faculty Director of The Magnes and Koret Professor of Jewish History. "Conceived before the pandemic," Curator, Dr. Francesco Spagnolo, observed, "Time Capsules became an experiment in working with the collection while carefully choreographing exhibition production through social distancing."
In celebrating a decade at UC Berkeley, Time Capsules revisits ten out of the nearly forty exhibitions presented since the former Judah L. Magnes Museum moved to their new academic home. The exhibition relies on The Magnes Collection's extensive and ever-growing holdings of art, books, manuscripts, and material culture.
Time Capsules is both a retrospective and an examination of the role of cultural heritage collections in imagining the future of Jewish memory. Each exhibition featured explores the cultures of Jews in a global perspective, in bringing museum objects "back to life," and in offering ever-changing ways to understand the past in order to inform the future. Highlighting Sound Objects (2013), The Secret Language of Flowers (2015), and Pièces de Résistance (2018), among others, Time Capsules showcases remarkable items including the Art Deco style of Cecil Jacob Epril's Torah Ark from the RMS Queen Mary, and the blend of teak wood with Italian design that characterizes the Torah Ark of the Tekkumbhagam synagogue (Mattancherry)from 17th-18th century South India. 
The original transfer to Berkeley of The Magnes and its historic collection was made possible with gifts from the Hellman Foundation, Taube Philanthropies, and the Koret Foundation. Over the last decade, additional gifts from these loyal donors have expanded The Magnes holdings to include the Taube Family Arthur Szyk Collection and the lifetime work of the famed photographer Roman Vishniac. 
Time Capsules. The Magnes: 10 Years at UC Berkeley is open by appointment on Wednesdays between 11:00 am and 4:00 pm through December 15, 2021 at 2121 Allston Way, Berkeley, CA and online at https://bit.ly/3tTmVkl.
High resolution images of Time Capsules. The Magnes: 10 Years at UC Berkeley are available for use by the media, with captions and photo source.Images of exhibition: https://bit.ly/3Ae8t8EImages of works presented: https://flic.kr/s/aHsmUCCPLf
The Magnes Collection of Jewish Art and Life