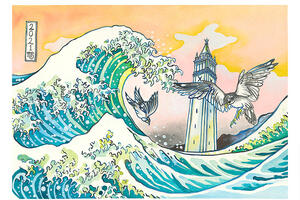 Dear Colleagues and Friends in the College of Letters & Science,
As the fall semester comes to a close, I am writing to say thank you and congratulations, and to wish you a restful and joyous winter break.  
As the solstice approaches, we have nearly completed a semester of return: return to in-person classes, return to working in our campus offices, return to open libraries and coffee shops. You have done amazing, inspiring work sustaining research and teaching, supporting our students, upholding the mission and values of the largest college in the most significant university in the country.  And that work this semester has been arduous. Things do not yet feel normal. Many meetings are still online, and our in-person meetings and classes are still masked. We are still deep in the work of recovery.
When campus closed down in March 2020, most of us envisioned that the closure would be short, followed by a return to campus life as we knew it. We thought it would be a few weeks, then a few months, but it kept getting longer and longer.  It has often felt like working underground, digging a long, hard tunnel, and hoping for the moment that we would break through into the full sunlight, with the ordeal behind us.
But when we finally reopened campus over the summer of 2021 and returned to nearly all in-person classes this fall, it did not feel like we had broken through to the sunlight with the ordeal behind us. That metaphor doesn't really work for our present challenges, and I'd like to offer you a different one.
I was born and raised in southeast Alaska, and we lived for several years on a 33-foot sailboat (a Pearson 10-meter, for the sailors among you). Sailing in Alaska can be dicey: huge tides; sometimes whipping winds; jagged, rocky coast. Storms can worsen quickly, and you have to respond: Get the jib down and double-reef the main, NOW!
Sea storms arise because a whole range of factors converge—for example, an outgoing tide plus a gusty, southwesterly wind, plus a swell—but those factors don't necessarily resolve all at once. The tide slacks and turns, and that reduces the chop, but the wind and swell are still strong. Then the wind slows (although by then it's probably raining hard), and you've just got the rain and the swell. Finally the swell subsides, but it might be days before the sun comes out.
Yet, even before the sun comes out, there can be joy. We have labored together as a true team. We have come very far. We have done very well. We have created moments of triumph, even though we still have much work ahead.
And so, as we complete this semester, I thank you and congratulate you. Thank you for all you have done for our College and our students. Congratulations on your many accomplishments, large and small. Congratulations to our winners of the campus Excellence in Advising and Student Services Awards. Congratulations to the new cohort of the Faculty Leadership Academy. Congratulations for another year of Nobel prizes, elections to the National Academies, and so many other kinds of prizes, honors, and awards. You are amazing. 
I wish you a very restful and rejuvenating winter break with family and friends, and sincere best wishes for a happy new year.
Fiat lux!
Jenna 
Jennifer Johnson-Hanks
Executive Dean of the College of Letters & Science
Professor of Demography and Sociology
---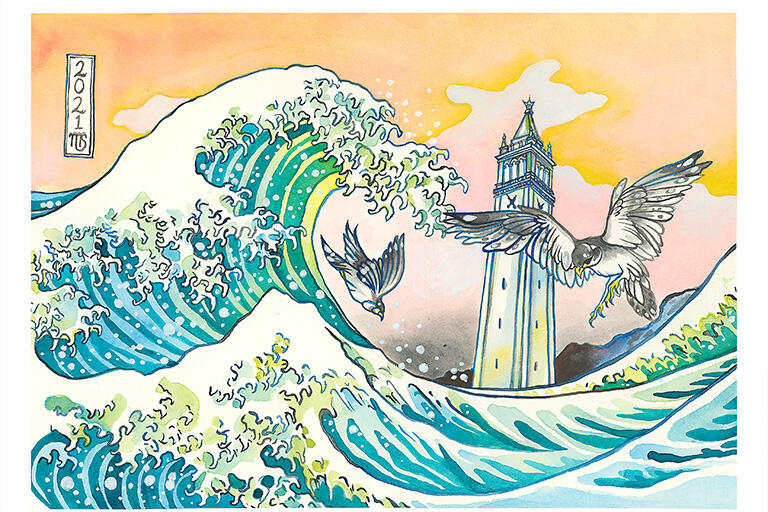 "Wave" artwork by Meg Shriver.
Upon reading the end-of-year message about sea storms and weathering turbulent times from Jennifer Johnson-Hanks, Executive Dean of the College of Letters & Science, Professor Scott Saul was reminded of Meg Shriber's artwork and shared it with the dean. 


Q&A with Meg Shriber, Class of 2022
Major: English
What inspired this piece?
This piece is most obviously inspired by Hokusai's 
The Great Wave
off Kanagawa--
I have seen variations of this painting everywhere (especially on the Cal campus! I think that it especially resonates with students here) and I wanted to create my own version that featured some of our campus icons. When I painted it I was actually taking a leave of absence, and although I still lived in Berkeley I desperately missed my classes and my professors. There is nothing that I love more in the world than being a student here. At the time I was also spending a lot of time on Berkeley's reddit page, and my heart went out to all the students who weren't able to experience campus the way I was because they were doing classes virtually. I ended up painting and sending 100 original postcards to other Cal students on r/berkeley (you can see some of them on my profile 
here
). Since we were virtual, they ended up all over the US and some of them even went international! Although I never ended up meeting any of the people who received my art, I'm so grateful that I was able to serve my community through my artwork, and I hope I was able to share a little bit about what it means to be a Golden Bear and the ways that we look out for each other. Once I finished the 100 postcards I did this final big painting.
In the original, I like the way that it looks like the looming wave is going to drown Mt Fuji--it's really startling until you realize it's a trick of forced perspective, and that the mountain will be fine after the wave crashes. It's a nice reminder that we are able to endure things that seem impossibly challenging. And of course, I had to include the Campanile falcons! I loved watching the falcon cam while in quarantine. Although they're not water hunters in real life, they're pretty resilient birds, and the baby Cal falcons (alums perhaps?) have gone on to inspire birdwatchers all over the Bay.

Where can we follow you and your work?
I post my art on Instagram 
@vossanova
 and as of this summer, I'm represented by a literary agent to write and illustrate my own stories. My first book is going out for submission next week!
Special thanks to Meg Shriber for sharing her beautiful work with us.