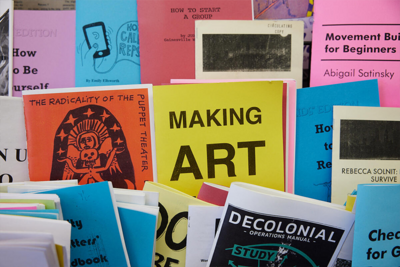 The Department of Art Practice within the Division of Arts & Humanities is celebrating its 100th anniversary. The department's two-year MFA program, which supports on average a dozen graduate students, is also welcoming its 100th MFA class this fall with increased resources for students.
Voted in by the Academic Senate in 1923, the department was one of the first of its kind, founded at a time when arts education wasn't widely offered, particularly at the university level. Prior to the Department of Art Practice's establishment, Berkeley only offered freehand and mechanical writing courses based in architecture, engineering and geologic programs. 
Despite barriers from skeptics of art as a higher education discipline, the department found its stability with the appointment of philosophy professor Stephen C. Pepper as its dean in 1938. Supportive of arts education and a specialist in the epistemological foundations of aesthetic criticism, Pepper collaborated with professor Worth Ryder, who bridged technical skills, modern critical theory and art history and was responsible for hiring the majority of the department's faculty. Utilizing practices from scientific disciplines and taking inspiration from Abstract Expressionist Hans Hofmann, who taught in the department, Ryder emphasized the classification of studio art in the university beyond technique and instead as a research field. He also focused on discussions of how to represent and broaden the understanding of the visible world in response to the growing popularity of surrealism in American art and literature. 
By the mid-1940s, the Department of Art Practice was well-established and considered one of the best in the nation, due in part for its curriculum based in theory and practice and taught by leading figures in the arts at the time. For instance, on the invitation of Ryder, renowned artists such as Chiura Obata and Margaret Peterson came to teach at Berkeley. As the Department continued to grow and thrive, faculty over the years included artists such as Joan Brown and David Hockney. Today, the department's faculty represent some of the most influential artists of our time and who work in a variety of mediums, such as Al-An deSouza, Nic Kay, Asma Kazmi, Darian Longmire, Mores McWreath, Jill Miller, Greg Niemeyer, Ronald Rael, Luanne Redeye, Brody Reiman, Stephanie Syjuco, Anne Walsh and many others.
Alumni from the program regularly cited the department's coursework as having shaped an understanding of how visual structure and dynamics allow a painting to communicate. Currently, the department focuses on a cross-media understanding of fine art practices in a global context to prepare students for a wide range of professions and practices with a curriculum that provides rigorous hands-on, conceptual, and critical studio art training. 
Since its inception, the department has graduated a number of acclaimed alumni, including Nadia Shihab, who most recently received the Truer Than Fiction Award in 2020 for her directorial role in Jaddoland (2018). Other notable alumni include Elmer Bischoff, Squeak Carnwath, Theresa Hak Kyung Cha, Enrique Chagoya, Erica Deeman, Jay DeFeo, Nicki Green, Mark Grotjahn, Xandra Ibarra, Alicia McCarthy, Shirin Neshat, Miné Okubo, Ehren Tool, and Chris E. Vargas, among others. . 
Learn more about the Department of Art Practice here.(link is external) Stay tuned throughout the fall semester for more articles highlighting the legacy of the Department of Art Practice as we celebrate this anniversary.
Division of Arts & Humanities