This spring, the College of Letters & Science Advisory Board launched its first-ever L&S Faculty Awards to celebrate outstanding Letters & Science faculty. Awardees were selected for their exceptional scholarship, service to the College and community, and transformational teaching. These extraordinary individuals not only embody the excellence of the College of Letters & Science, but they also serve as an inspiration to the entire campus community. 
Award Namesakes: Honoring Blackwell, Manz, and Peixotto
Designed by the Faculty Awards Working Group, a sub-committee of the L&S Advisory Board, the L&S Faculty Awards recognizes three categories of faculty who have recently been promoted: newly tenured, full professor, and professor above-scale. Each category has been named for an L&S faculty member who has had a tremendous impact on the College.

 David Blackwell, Beatriz Manz, Jessica Blanche Peixotto (left-right)
David Blackwell Award, given to newly tenured faculty. Blackwell (1919-2010), professor of statistics, was the first African American tenured professor at UC Berkeley and also the first African American scholar inducted into the National Academy of Sciences. 

He has an incredible history full of accolades, including the Berkeley Citation, the highest honor bestowed by UC Berkeley.

Beatriz Manz Award, given to faculty recently promoted to full professor. Manz was the first Latina full professor at Berkeley. 

She directed the Berkeley Center for Latin American Studies and chaired the Department of Ethnic Studies. Her research as an anthropologist has been focused on human rights and justice, particularly among the Mayans of Guatemala. The Working Group chose Professor Manz as an award namesake because of her commitment to a balance of scholarship, teaching, service, and work for the common good. 

Jessica Blanche Peixotto Award, given to faculty recently promoted to professor above-scale. Peixotto (1864-1941) was the first woman to become a full professor, the first woman to Chair a department at UC Berkeley, and the second woman to earn a Ph.D. from Berkeley. 

Professor Peixotto's work was in social economics, including a comparison of wages and spending in the U.S. and France. She also made significant contributions to American society -- during World War I, Peixotto served as the executive chairperson of the child welfare department of the Women's Committee of the Council of National Defense.
2023 Inaugural Recipients of L&S Faculty Awards
This year, the Faculty Awards Working Group has named Jovan Lewis, associate professor and chair of the Department of Geography; Michael Zaletel, associate professor and Thomas and Alison Schneider Chair of the Department of Physics; SanSan Kwan, professor and chair of the Department of Theater, Dance, and Performance Studies; Leigh Raiford, professor of African American Studies and director of the Black Studies Collaboratory; and Iswar Hariharan, professor of cell biology, development, and physiology and co-chair of the Department of Molecular and Cell Biology. 
Awardees will be honored at a private ceremony on Wednesday, May 24. To share a note of congratulations with the awardees, please use this form. 
Jovan Scott Lewis
2023 Co-Recipient of the David Blackwell Award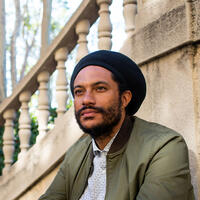 Lewis joined the Berkeley faculty in 2015 and his research spans themes in geography, anthropology, African American studies, and Caribbean studies, focusing on the racialization of poverty in the Caribbean and the U.S. His two books, Scammer's Yard: The Crimes of Black Repair in Jamaica and Violent Utopia: Dispossession and Black Restoration in Tulsa, have received outstanding critical praise. Lewis has also been lauded as a strong instructor, with course effectiveness and instructor effectiveness averages near or above departmental averages. According to the nomination letter, "Lewis has developed and delivered a slate of highly successful courses during his time at Berkeley, addressing important subjects that had previously been absent or under-addressed, and doing so in ways that are at once inclusive and rigorous. He has demonstrated a commitment to pedagogical innovation and excellence, broadened the curricular reach of his departments and the campus at large, and created spaces where diverse graduate and undergraduate students feel engaged, challenged, and supported." Lewis is also the founder of the Berkeley Black Geographies Project, which he started "by the needs to address the historical challenges of racial and gender disparities expresses the few Black graduate students within my department." Raka Ray, Dean of the Division of Social Sciences, shared, "Jovan Lewis is electric. Both visionary and pragmatic, he has transformed the Geography department through the introduction and development of the concept of Black Geographies. His teaching and scholarship have increased the number of African American students in the department. And his is an important voice on the California taskforce on reparations."
Michael Zaletel
2023 Co-Recipient of the David Blackwell Award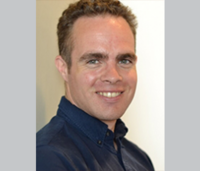 Zaletel joined the Berkeley faculty in 2018 and his research focuses on theoretical condensed matter physics and its intersection with quantum information and computational approaches. The nomination letter commented, "Mike has received several prestigious awards, including the McMillan Award and the Sloan Fellowship. He is regularly invited to give seminars and talks at international conferences, and he has a very high profile, despite his early career stage. All of these, again, point to his rising trajectory as a young leader in the field of strongly correlated and topological physics, an area of huge contemporary interest." In his relatively short career, Zaletel has demonstrated himself to be a capable and organized instructor and has established a strong teaching record. Student comments include: "Zaletel is a brilliant professor, his attitude towards homework, students, and learning in general is amazing;" "Professor Zaletel is an amazing teacher and person. His enthusiasm for physics is amazing. Every Tuesday and Thursday, I would magically wake up early, no matter what time I slept the night before, because I had a physics lecture with Professor Zaletel that I could not miss. Professor Zaletel also has a very good sense of humor. He also answered every question asked very well. He really really cares about his students and is a role model." Zaletel has made great strides in contributing to diversity, equity, and inclusion as an assistant professor of physics. A notable contribution in this area is his establishment of a peer tutoring program for Physics 5A, which has since been adopted department-wide. Steven Kahn, Dean of Mathematical and Physical Sciences, remarked, "Mike is a young "superstar" and condensed matter theorist. He wrote papers and made discoveries that made him very well-known in his field. He's also involved in quantum information science and does pencil/paper theory as well as complex computational theory. He's a great teacher and has led DEIBJ initiatives in the department."
SanSan Kwan
2023 Co-Recipient of the Beatriz Manz Award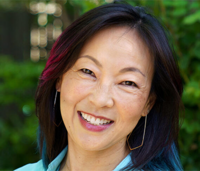 Kwan joined the Berkeley faculty in 2011. She is a scholar of performance studies, dance, and transnational Asian American studies in addition to being an accomplished performer. Her recent book, Love Dances: Loss and Mourning in Intercultural Collaboration, is the winner of the 2022 de la Torre Bueno Award. She is also the author of Kinesthetic City: Dance and Movement in Chinese Urban Spaces and co-editor, with Kenneth Speirs, of Mixing It Up: Multiracial Subjects. In addition to these scholarly achievements, Kwan performs with the renowned Lenora Lee Dance Company. As a tenured professor, Kwan is known for being an excellent educator and instructor. Student comments reflect that she is "kind, generous with feedback, and dedicated to her students." Her teaching effectiveness was recognized by the 2020 American Cultures Engaged Scholars Chancellor's Public Scholar Faculty Fellowship and the 2021 American Cultures Excellence in Teaching Award. Sara Guyer, Dean of the Division of Arts & Humanities, shared, "SanSan's dedication to the research, teaching, and public mission of the university shows through her record of service from the departmental to the college level. Recently, she completed the yearlong Faculty Leadership Academy and serves as Chair in the Department of Theater, Dance, and Performance Studies all while fostering her artistic practice. Her public and campus engagement has led to the development of artist residencies, collaborations with dance companies, and the development of dance pedagogies around racial justice initiatives such as Black Lives Matter and immigration histories tied to the Angel Island Immigration Station. Her service on boards and committees within the Bay Area and internationally underscores her dedicated leadership and service."
Leigh Raiford
2023 Co-Recipient of the Beatriz Manz Award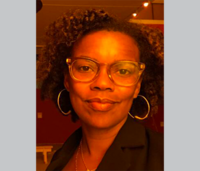 Raiford joined the Berkeley faculty in 2004 and her research focuses on race, gender, justice, and visuality -- specifically, how blackness is represented in visual culture and social justice movements. She is the director of the Black Studies Collaboratory, a $2.8 million project funded by the Andrew W. Mellon Foundation, and serves as affiliate faculty in the Program in American Studies and the Department of Gender and Women's Studies. Raiford is the author of Imprisoned in a Luminous Glare: Photography and the African American Freedom Struggle, which was a finalist for the Berkshire Conference of Women Historians Best Book Prize. She is co-editor with Heike Raphael-Hernandez of Migrating the Black Body: Visual Culture and the African Diaspora and with Renee Romano of The Civil Rights Movement in American Memory. According to the nomination letter, "Raiford's dossier includes a remarkably diverse array of additional scholarly and creative work," including museum catalog essays, creative nonfiction, and exhibition curation. She has also garnered an outstanding reputation for her teaching, with students describing Professor Raiford as "an engaging and thoughtful instructor who genuinely cares about her students and creates an open and encouraging classroom space," and students expressing appreciation for Professor Raiford's "knowledge, ability to synthesize information and challenge students, and her ability to successfully navigate class discussions, allowing room for differing opinions." Former Chair of the Department of African American Studies, Ula Taylor, praised Raiford's dedication and skill as a mentor to students at all levels, "many of whom feel the multiple pressures of being first-generation college students."  
Iswar Hariharan
2023 Recipient of the Jessica Blanche Peixotto Award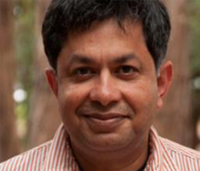 Hariharan joined the Berkeley faculty in 2004 and is an international leader in cellular and organismic growth regulation. His lab focuses on "identifying the genetic controls on tissue growth, understanding how cells develop into organs, and on the limits of regeneration." His research findings have been enormously important and influential in the regeneration field. Hariharan's notable contributions to the profession include longstanding membership in the American Cancer Society's Council for Extramural Grants. He chaired an NIH study section from 2012-2014 and again in 2017, acted as Associate Editor for Genetics, and provides ongoing service as an ad-hoc journal reviewer for several high-impact journals and additional study sections. In addition to his excellent record of research, Hariharan has an exemplary reputation for his classroom teaching. The nomination letter states, "Students rate Hariharan's overall teaching effectiveness for these courses often well above average for the department and narrative evaluations characterize him as an engaging and effective instructor, and as one who conveys strong enthusiasm for his subject and for student learning." In recognition of his outstanding contributions to teaching, Hariharan was awarded the Department's Teaching Excellence Award for 2018-19. He has also been an active and effective mentor, and the Hariharan Lab has trained many undergraduates and postdoctoral fellows, as well as a good number of graduate students. Seventeen of his trainees are now faculty at other institutions. Richard Harland, Senior Associate Dean in the Division of Biological Sciences shared, "Iswar Hariharan is internationally recognized as a scholar in cell and developmental biology. Over the course of his career at Berkeley, he has sustained a record of excellence in research, teaching, and service commensurate with advancement to the highest ranks...I would like to emphasize his influential role as a senior colleague in original and insightful discussions of science and teaching. He brings a high-level intellect to campus life, and I admire his approach and accomplishments enormously."