It's no secret that UC Berkeley attracts outstanding women from all walks of life, all over the world, to pursue their educational goals. As these women transition from academic to professional careers, having a network of Cal alumnae ready and available for support can be a transformative benefit. In 2019, Jennifer Youstra '88 and Jessica Rothenberg-Aalami '94 partnered with the Social Sciences division in the College of Letters & Science to formally establish such a network and created the UC Berkeley Women in Leadership Circle (WILC). 
Since its inception, WILC has welcomed nearly 100 Cal alumnae to reconnect with the university and with each other. Programming highlights have included student panels, faculty presentations, and student mentorship opportunities. WILC has focused on four main topics: preserving the future of democracy, supporting equity and inclusion, offering mentorship and first-generation student support, and facilitating professional networking. As the program prepares to expand its network with a new Peninsula chapter, L&S spoke with WILC co-leaders, Jennifer Youstra '88 and Jessica Rothenberg-Aalami '94, to revisit the mission, vision, and goals for this exceptional group of alumnae.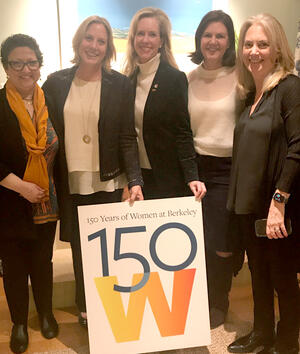 Jennifer Youstra '88 (image: far right) graduated from UC Berkeley with a degree in economics and received an MBA from Harvard University. Today, she is an independent advisor, investor, and consultant with a background in emerging companies and industries.
Jessica Rothenberg-Aalami '94 (image: center) holds a degree in political economy from UC Berkeley, in addition to masters and doctoral degrees in economic geography and international studies from the University of Oregon. She is the CEO and founder of Cell-Ed, a mobile phone-based education provider.
Interviews have been edited slightly for length and clarity. 
L&S: What was your vision for the Women in Leadership Circle (WILC)?
Youstra: The purpose of the Circle was to start a tradition for women, where we can come together and be our authentic selves. I wanted a space for sharing issues or challenges, not just in our careers, but in our lives. I helped start a similar program for Harvard Business School for women in the Bay Area - it's been around for three or four years now and it's been interesting to be part of that. I think the WILC provides a way for Berkeley alumnae to not just connect with each other, but to re-engage with the university too. 
Rothenberg-Aalami: I was excited by the opportunity to promote women's leadership and sponsorship in a tangible, local way. I also found the idea of co-leading and collaborating with dynamic women in service to our alma mater a particularly meaningful way to come full circle with UC Berkeley, which has set the stage for many of our successes. 
What are your future goals and aspirations for WILC?
Youstra: I'd like to continue expanding on what we've been doing. With the support of the Social Sciences development team, we've been able to reach into the university system and get access to these unbelievable professors who are also women, and who go through the same struggles we all do. I also hope that these Circles become another way for people to give back to Berkeley in a way that is fulfilling for them. 
Rothenberg-Aalami: I'd like us to take our discussions even further -- into practice and action that can be measured. I am so inspired by each session we have together. I would love tangible commitments that would galvanize more students and women to join a dynamic UC Berkeley community of women.
What do you perceive to be the most impactful aspect of this program?
Youstra: Providing ways for women to connect during COVID has been a huge accomplishment for the group. I also think our mentoring program has been quite successful. During the pandemic, people have been able to meet more readily without having to drive or go from point A to point B.
Rothenberg-Aalami: In response to daunting structural changes needed to represent all communities, I am convinced that the connection between cutting-edge UC Berkeley faculty, students, and its Women in Leadership Circle creates a virtuous circle for change agency. Imagine hearing how a faculty member inspires acts of agency for the greater good through their lab or research team - or hearing what it took to build a billion-dollar business, setting ground-breaking legal precedent, or juggling the triple work day. The fount of relevant, meaningful topics is endless. 
Who are some of the women leaders at UC Berkeley that have inspired you? 
Youstra: I'll never forget the moment I decided that I wanted to be an economics major. Laura Tyson, one of my economics professors, taught our Econ I class while she was eight months pregnant. I had never met her before -- she just walked in and taught about 800 students in Wheeler Hall while very visibly pregnant, and she was incredible. Honestly, that really inspired me, it was just that memorable. 
Rothenberg-Aalami: I have a list that has grown exponentially over time. One woman leader whom I think of often was another student from UC Berkeley in 1991. She was a continuing student in her 50s who took the train two hours a day from San Jose to complete her life's dream of graduating from UC Berkeley. On the final day, she handed me an envelope with $100 and said this money is the Stella Shultz Award. She explained this mentor had gifted her $100 and told her to "Be an orchid in a cornfield. It will pay off." I gave the Stella Shultz Award to another student 20 years later with the same message. Despite the monumental contributions that Berkeley has made over time, it is also the little things I remember most and know the WILC will continue to inspire these sparks.

Learn more about the UC Berkeley Women in Leadership Circle and join the LinkedIn group. For more information, contact Anya Essiounina at anya.essi@berkeley.edu