The Arts Research Center–a think tank for the arts at UC Berkeley–is partnering with AlterTheater to present a rolling world premiere of an award-winning new comedy, Pueblo Revolt by Dillon Chitto. Pueblo Revolt will run from February 2-12, 2023 at the Arts Research Center (ARC) and February 13-26 at Art Works Downtown in San Rafael.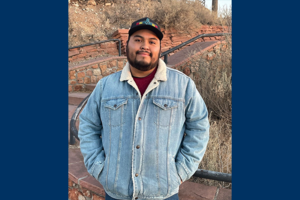 In association with the premiere, playwright Dillon Chitto will be an ARC visiting Artist-in-Residence on campus February 6-9. Chitto will join Professor Laurie Arnold of Gonzaga University for a lecture at ARC: Theater as a Site of Public History on February 6 starting at 1pm. The lecture will be held inside of the play staging. This lecture is free and open to the public.
"I'm excited to share Pueblo Revolt with audiences," Chitto says, "because it's an Indigenous story of survival through a comedic lens."
Equally hilarious and poignant, Pueblo Revolt is the story of two brothers, Feem Whim and Ba'homa, living through the only time in North American history when Native people kicked out the colonizers. Unfortunately, even as they prepare for the upcoming Pueblo Uprising, the younger brother is trying to navigate a very inconvenient crush on the Spanish baker's son.
Pueblo Revolt won the Rella Lossy Award for Best New Play set to premiere in the San Francisco Bay Area. Pueblo Revolt weaves together history and Indigifuturism to examine queerness, family, religion, and survival.
"Initially, I was really connected to the character of Feem Whim," says Reed Flores, who will direct the project. "I'm also a Queer younger brother. But, as I kept rereading this play, I was really drawn to the language. A majority of the dialogue of this play is created in a sort of modern realism, how we talk today -- but then there are parts that lean into magic, into poetry, and those are the parts that really transport me to a different place."
"ARC is delighted with the community partnership we've formed with AlterTheater, and thrilled to bring Dillon Chitto's terrific Pueblo Revolt to the Berkeley campus," ARC Director Beth Piatote says. "This funny and emotionally moving play animates a significant episode in Indigenous history, told through the experiences of two brothers as they struggle to survive with bodies and hearts intact. The play is perfect for a campus audience--the two brothers are young men, one with a serious crush--as well as a broader audience interested in the gifts that Indigenous playwrights are bringing to the theater."
AlterTheater's unique model of collaboration to create accessible, community-driven theater aligns with ARC's mission as a think tank for the arts focused on broadening conversations across media; in 2023, ARC is focusing on Indigenous artists and the theme of Reclamation.
"When applying an equity lens to producing theater, sometimes access means taking the play to the people rather than the other way around," says AlterTheater producing Artistic Director Eric Avery. "And Pueblo Revolt is the latest form of healing medicine in our nearly two decades of centering Black and Indigenous artists' stories for cultural repair, connection and mutual understanding." Adds Jeanette Harrison, co-founder of AlterTheater, "And laughter is the greatest medicine Indigenous folx have to offer."
In addition to the play and lecture, Chitto will be visiting classes in the Theater, Dance, and Performance Studies department as well as meeting with students in the Native Community Center. The Arts Research Center is located on the University of California, Berkeley campus at the Hearst Field Annex D23.
More information about the Arts Research Center is available online.