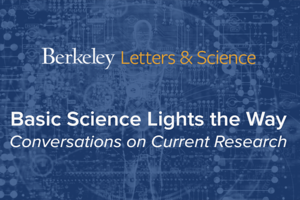 "There's this funny, almost magical aspect of following curiosity-based research, when you just try to understand how the world works," said professor of physics, Saul Perlmutter, reflecting on the ingenuity that is intrinsic to basic research. "Somehow, that's made it possible for us to leapfrog all sorts of problems."
Perlmutter, who won a Nobel prize in 2011 for his groundbreaking work in physics, was in conversation with fellow Berkeley scholars during a Basic Science Lights the Way lecture that posed the question, What do a neurobiologist, particle physicist, evolutionary biologist, and cosmologist have in common? The answer, it seems, is not unique or exclusive to these specific roles, but rather is a shared characteristic among all researchers at Berkeley: They follow their curiosity and pursue discovery-driven research for fundamental knowledge and understanding. And now, the Basic Science Lights the Way series is back, once again offering the public an up-close, firsthand look at how today's brilliant faculty and students at UC Berkeley are shaping the world of tomorrow.
Returning for its third year, the Basic Science Lights the Way series brings together leading minds from the Division of Biological Sciences and Division of Mathematical & Physical Sciences for enlightening virtual discussions. Topics range from addressing urgent issues such as climate change or natural disasters, to tackling essential questions about our understanding of nature, the universe, and ourselves. Guests are invited to learn how the research conducted at UC Berkeley helps drive discoveries that can solve real-world problems and even shift paradigms.
This year, the tradition continues with the following line-up of events, which began earlier this month. Each event will be held via Zoom at 5:00 p.m. Pacific Time:
TUESDAY, OCTOBER 5: Land of Fire and DroughtDavid Ackerly, William Boos, Lara Kueppers, and moderator Inez Fung
WEDNESDAY, OCTOBER 13: When the Earth ShakesRoland Bürgmann, Quingkai Kong, Sarina Patel, and moderator Richard Allen
TUESDAY, OCTOBER 26: Graduate Student Rising StarsSusan Mullen, Emma Regan, Arik Shams, and moderator Michael Botchan
WEDNESDAY, NOVEMBER 10: Inspired by NatureSunčica Čanić, Dana Foss, Robert J. Full, and moderator James Analytis
WEDNESDAY, NOVEMBER 17: Creatures of CaliforniaRauri C. K. Bowie, Todd E. Dawson, José Pablo Vásquez-Medina, and moderator Caroline Williams
Watch a trailer for a sample of what you'll discover by joining. 
For more details, to register for events, or to view past series lectures, visit the Basic Science website at basicscience.berkeley.edu
New video from our Biological Sciences Division
Don't miss this video that demonstrates just how our remarkable Biological Sciences Division studies everything that breathes, blinks, swims, grows, lives, and dies — from base pairs to entire ecosystems. This video highlights how students and faculty ask basic research questions, leading to answers that will define our future.