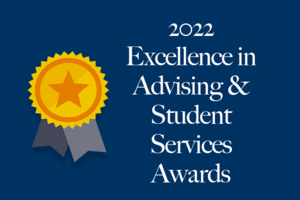 The UC Berkeley Council on Advising and Student Services and its awards planning committee recently announced the recipients of the 2022 Excellence in Advising and Student Services Awards. These awards recognize the positive and innovative impact that these recipients have on student learning, engagement, and belonging on the Berkeley campus. Congratulations to all of this year's award winners, including the following recipients from the College of Letters & Science:
Outstanding Advising or Student Services Administrator, Director, or Manager
Sarah Maxim, Vice-Chair, Center for Southeast Asia Studies
"Sarah is the Vice Chair of the Center for Southeast Asian Studies at UC Berkeley and supports the programming of the center's aims in promoting campus-wide and international scholarly circuits. Sarah's work ethic and engagement with students is a model for an outstanding advisor and administrator, felt immensely over the years by Filipinx graduate students in her support for the Filipinx & Philippine Studies Working Group. The ability to have a collective and critically engage with Philippine and Filipinx American studies scholarship has been greatly supported by her support and service."
Outstanding New Advisor or Student Services Staff
Jordan Elmowitz, Integrative Biology and Molecular & Cell Biology Academic Advisor, Bio Divisional Services
"Jordan Elmowitz is an excellent IB/MCB academic advisor. He always puts students first and makes them feel welcomed into our community. When serving such a large student population, it's hard to make students feel seen and heard. Jordan doesn't just give them the right information and help them choose their courses, but he makes them feel like they truly belong in our department. In addition to his advising, Jordan also works with our students on probation, coordinates our major events, and supports our student clubs. With each student meeting and email, he builds a community of trust and support within MCB and IB. His empathy, compassion, and drive are shining examples of what makes an excellent advisor and leader."
Service to the Advising and Student Services Community
Equity-Oriented Advising and Coaching Program Team, including Isela Peña-Rager, Co-Chair, Cal Coaching Network (CCN) and Assistant Director, L&S Office of Undergraduate Advising
"The Equity-Oriented Advising & Coaching program equips staff with adaptive equity-oriented pedagogies (AEP) that increase student success and belonging. The team trained staff to use student data to examine their biases and reduce equity barriers. An advisor sums up the program's impact: "The EOAC program is the best program for creating transformative anti-racist, equity champions. The program team strengthens our practices and services that impact tens of thousands of students. I, other advisors, and instructors have found that [AEP] strategies are the most effective at dramatically improving all students' success, confidence, and sense of belonging. The program's data-driven AEP framework should be the framework for the world."
Team Advising Innovation
Physics and Astronomy Discovery Trailblazing Team
Austin Hedeman, Academic Coordinator, Physics
Claudia Trujillo, Director of Student Services, Physics
Kathleen Cooney, Undergraduate Advisor, Physics
Anna Hilke, Undergraduate Advisor, Physics
Christian Natividad, Student Tutor Recruiter and Graduate Advisor, Physics
Brianna Franklin, Undergraduate Advisor, Astronomy
"By cross-fertilizing ideas, coordinating efforts, and communicating to students and all members of the community with professionalism and care, the Physics & Astronomy Advising Staff have spearheaded a variety of new Discovery programs for students, including: (1) a new partnership with the Student Learning Center and the MPS Dean to recruit, train, and organize Student Peer Tutors serving all our majors; (2) connecting undergraduates to research opportunities and doubling the number of stipends paid to undergraduate researchers; (3) organizing workshops aimed to prepare students for careers in academia, industry, and finance; and (4) empowering Student Groups, including Transfers, to create welcoming and supportive environments."
Read more about the 2022 Excellence in Advising and Student Services Awards recipients on the Advising Strategy + Training website.