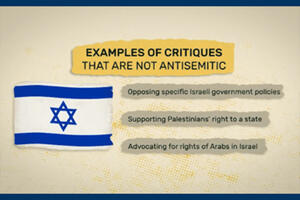 An education program developed at UC Berkeley aimed at stamping out antisemitism on campus is finding a national audience, with help from a $25,000 grant and a video that strives to put a complex history into simpler terms. 
The Antisemitism Education Initiative began in 2019 and is coordinated by the UC Berkeley Chancellor's Committee on Jewish Life and Campus Climate, the Center for Jewish Studies, the Helen Diller Institute for Jewish Law and Israel Studies, Berkeley Hillel, and the Magnes Collection of Jewish Art & Life. 
The initial goal was a simple one, according to Berkeley Law Professor Steven Davidoff Solomon, who started the initiative with UC Berkeley history Professor Ethan Katz and Berkeley Hillel Executive Director Adam Naftalin-Kelman: To educate students and other members of the school community about the roots of antisemitism and modern examples of anti-Jewish bias.