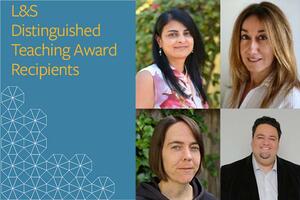 The College of Letters & Science is well represented on the 2022 UC Berkeley Distinguished Teaching Award list. L&S faculty earned four of this year's five selections for the campus's most prestigious honor for teaching. 
The award recognizes teaching that incites intellectual curiosity in students, engages them thoroughly in the enterprise of learning, and has a lifelong impact. The Academic Senate's Committee on Teaching has chosen:
*College of Letters & Science
The extraordinary expertise, curiosity, and passion of this year's recipients remind us that excellent teaching runs both deep and broad across Berkeley's academic landscape. 
This year's ceremony will also recognize the 2020 recipients — all L&S faculty — who we were unable to celebrate due to the pandemic.
*College of Letters & Science
All students, faculty, and staff are invited to celebrate these remarkable teachers at a ceremony and reception on April 28, 2022, from 5-7 p.m. in Pauley Ballroom, Martin Luther King, Jr. Student Union.