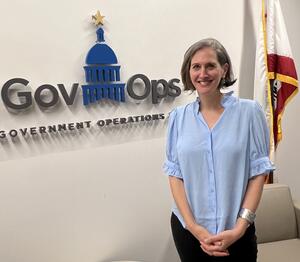 Established in July 2013, the California Government Operations Agency (GovOps) is a nerve center of state government, tasked with supporting all of California's public agencies to streamline operations, promote efficiency, and foster collaboration across diverse departments. By breaking down silos and embracing data-driven decision-making, this young agency is well-positioned to bring about transformational change for Californians.  UC Berkeley Possibility Lab Executive Director Amy E. Lerman, Ph.D, has dedicated her career to civic engagement, public policy, and agile government, so it's fitting that she has been tapped to serve as GovOps' first Senior Strategist for Data-Driven Innovation.
Lerman, who founded the Possibility Lab, understands that integrating data-driven innovation into government operations is not a one-and-done project: it requires long-term partnerships to embed these systems into the state's DNA. Along with a robust data infrastructure and analytical capacity, there is the adoption of a data-driven mindset and the fostering of a culture that encourages knowledge sharing, resource pooling, and creative problem solving.
"Government works best when it works for everyone and harnessing the immense talent at the University of California to support state agencies can be a powerful driver of equity and innovation," said Lerman, who is also a University of California Professor of Public Policy and Political Science. "I look forward to working alongside the dedicated public servants at GovOps over the coming year, helping to improve Californians' lives."
In an era defined by rapid technological advances, the integration of a data innovation framework represents a pivotal moment for government and the residents it serves. By leveraging data, our leaders have rigorous and responsible ways of testing innovations, ensuring that policies and programs are adaptive, efficient, and responsive to the changing needs of the population. The intelligent use of information concurrently opens new pathways for civic engagement, allowing more community voices to reach policymakers and influence policy in a sustained and systematic way.  
"We are so pleased to welcome Dr. Amy E. Lerman to the GovOps team," said GovOps Agency Secretary Amy Tong.  "She's a proven innovator and helps bring a different perspective that we know will help us continue meeting the needs of all Californians.  Welcome to our team, Dr. Amy!"
Combining government capacity and insights with the expertise of the University of California ecosystem can better position the state to sit at the forefront of data-driven innovation, unlocking the immense power of government to tackle our most pressing public-sector challenges through a collaborative multidisciplinary approach.
Lerman is the Michelle Schwartz Chair and Professor of Public Policy and Political Science at UC Berkeley. She recently served as Director of Innovation for the California 100 initiative and, in 2023, she was elected to the American Academy of Arts and Sciences. Her research is focused on issues of equity, public opinion, and political behavior, especially as they relate to public safety and social inequality in America. Professor Lerman's scholarship can be found in a wide variety of academic journals and has been featured in numerous media outlets including the New York Times, Washington Post, USA Today, CNN and NPR. She consults widely on issues related to civic engagement and trust in government, prison reform, and access to higher education.
In addition to her academic work, Lerman has served as a speechwriter and communications consultant for national nonprofits and members of the United States Congress, a community organizer in Latin America and Southeast Asia, and an adjunct faculty member of Mount Tamalpais College at San Quentin State Prison. She has written several award-winning books including The Modern Prison Paradox, Arresting Citizenship, and Good Enough for Government Work. Lerman earned her Bachelor of Arts degree from the Gallatin School at New York University, and a Master of Arts and Ph.D. in Political Science from UC Berkeley.