I just got back from three weeks of travel (three conferences and a week of cycling). I carried less than 5lbs of luggage. This includes my pack, clothes, rain gear, toiletries, first-aid kit, flashlight, house keys, a water bottle, emergency tools, and a 10.5" iPad Pro and Apple Pencil — everything but the clothes on my back.¹ Almost half the weight was the iPad.
In contrast, Samsonite's small (19") Armage rollaboard weighs 8.7 lbs empty.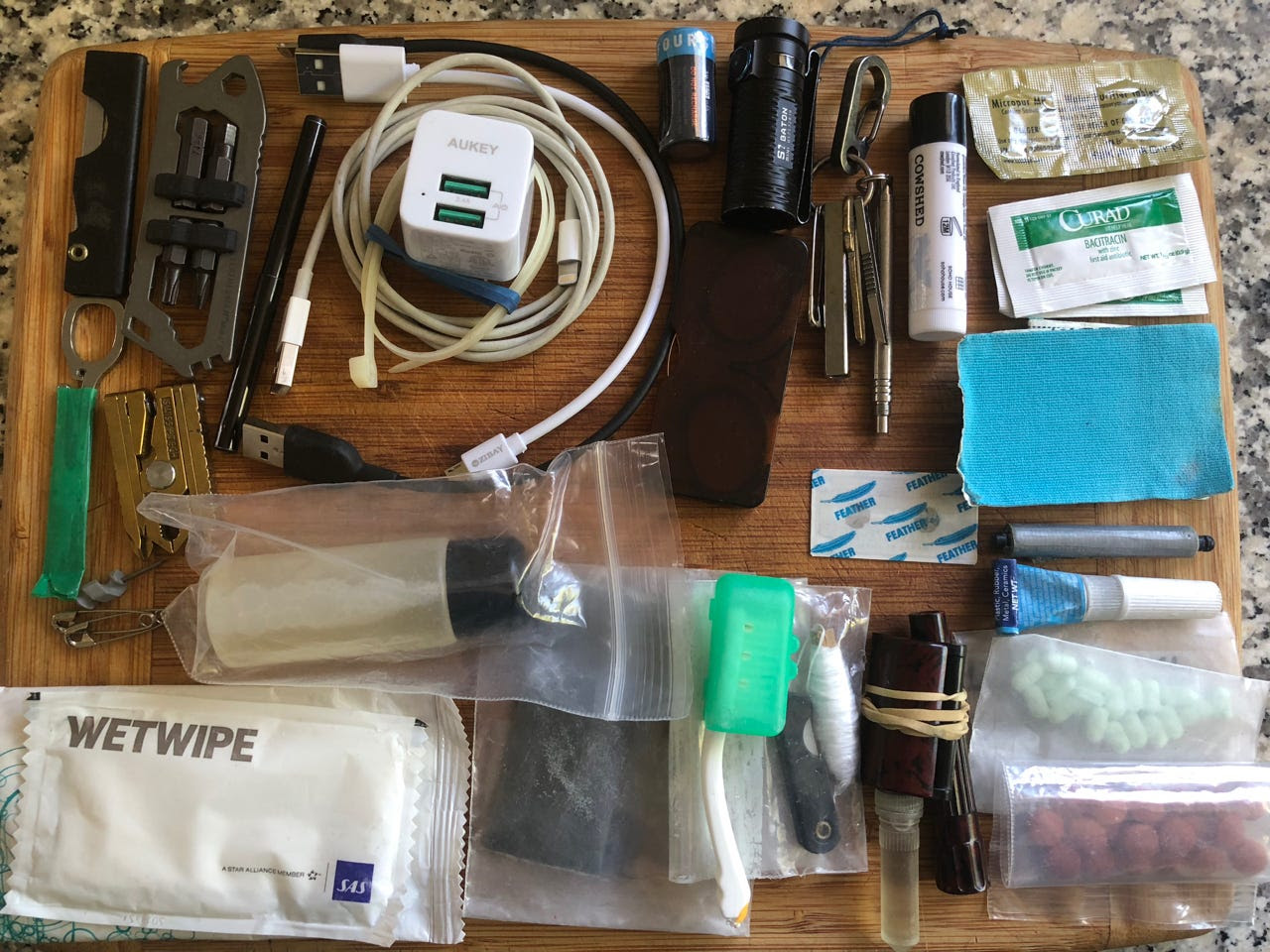 To travel light, all it takes is thinking ahead, willingness to wash clothes almost every day (a 7-minute ritual), leaving behind things that would just weigh you down, and bringing versatile things.
For instance, I brought an Outlier Breezy Linen Pivot shirt. Under a blazer, it's dressy enough for dinner at a nice restaurant. It washes easily and dries quickly. It looks fine a bit wrinkled. And it's an awesome performance layer: great sun protection for cycling, extremely breathable, and highly absorbent. (Linen towels absorb far much water than the same weight cotton towel.) On a warm day, I can wash it, wring it in a towel to get most of the water out, and put it back on. It will be completely dry in 15 minutes. And if I stop for lunch or coffee while I'm cycling or running roads from town to town, I'm not a MAMIL (what my kids call a middle-aged man in Lycra).
I also brought an Arc'Teryx Veilance Blazer LT. It looks enough like a blazer to pass in restaurants and informal business meetings — and in academia, my day job. When I wear it traveling, I get treated better by security and airline staff. It's light: 285g (10.1oz). But it's made from a technical fabric. It's windproof, which makes it far warmer than the same weight sweater would be — so I don't need to carry a sweater or a windbreaker. It's water repellent. It's comfortable to bike in. And if you stuff it in your backpack, within a few minutes of putting it back on, the wrinkles disappear. (The fabric itself is a little crinkly, a bit like seersucker.)
General principles
Think about what you will be doing, what the weather will be like, etc. I start packing about a week before I travel, by making an organized pile of stuff I think I might want to take. I add, subtract, and substitute until I go.
Clothes should be easy to wash, fast to dry, wrinkle-resistant (or look good with wrinkles), and meet more than one need (e.g., dinner, business, sun protection, cycling, hiking, running, wind layer, warm layer, rain layer).
Natural fabrics that don't get stinky are good choices for shirts, dresses, socks, and underwear: merino wool, linen, silk. Avoid cotton. It's not good insulation and takes a long time to dry. Merino will keep you warm even if it is wet; wet cotton will chill you by evaporation: mountaineers call it "death cloth" because of the risk of hypothermia. Lightweight merino is as cool and breathable as cotton, but much more comfortable to sweat in. Some synthetics are good; others not. They get stinky quickly unless they have an anti-microbial treatment. I'm not sure it's a good idea to put those chemicals against your skin. Cuben fiber, also known as Dyneema, is an incredibly strong lightweight material for rain jackets, packs, and stuff sacks. (It was originally developed for racing sails.)
If you are going to carry a shell or jacket, it should have a hood: the slight weight penalty buys a great deal of extra warmth.
Something windproof is much warmer than something that isn't.
A light windproof rainshell or wind shell over a light insulating layer (e.g., a long-sleeve merino shirt) is surprisingly warm. A light shell over a slightly heavier insulating layer (e.g., Montbell EX Light Anorak) can keep you comfortable in pretty cold weather (<10F). Keeping head, hands, and feet warm is crucial. Remember that you can layer things: the question isn't whether you have a jacket that's warm enough, it's whether your rain layer on top of your jacket on top of your blazer on top of your long-sleeve shirt on top of your short sleeve shirt — with your wool beanie — is warm enough.
Things that need replacements (e.g., non-rechargeable batteries, razor blades) should meet a common international standard.
I wash my clothes in the hotel sink virtually every day. I bring things that will dry overnight. A heated towel rack is a wonderful thing to find in a hotel — it's an in-room clothes dryer! Because I do laundry daily, I really don't need more than two days of clothes. The issue is how to optimize what I bring to meet the widest range of function. I'm willing to dress a bit inappropriately to keep the "coefficient of schlep" low.
I bring things that solve a lot of problems, such liquid Castille soap, which works as soap, shampoo, laundry soap, dish soap, and shaving soap (and, in a pinch, as toothpaste, but it isn't my first choice).
Reduce the amount of packaging you carry. Why carry a spool of dental floss in a big plastic box, if you can carry just the floss? It takes very little time to wind 5y of floss onto a piece of a chopstick. Cut a notch in the end of the chopstick to trap the thread.
If there's a "dry" version of what you need, why carry the water? Hence, I carry tooth powder instead of toothpaste. Similarly, consider solid bar shampoo instead of liquid shampoo.
If there's a concentrated version of something you need, why carry bulk? Hence, I carry shaving oil instead of shaving cream.
Often, the product that is easier to travel with is also easier on the environment, because it has less packaging and a smaller carbon footprint.
If you pay attention to grams, you will save kilograms. You also save time and aggravation. You get through security more easily. You get to your gate and your seat and your hotel more easily. You will clear customs faster. You will fly by the people with noisy, heavy, roll-aboard luggage.
---
Packing list
Here's what I brought.
Pack
Electronics (in a Gossamer Gear Cuben fiber zip ditty bag):
AUKEY 2-port USB charger (lets me charge iPad and iPhone or flashlight or headset at the same time)
8" micro usb cable (this charges my flashlight, bike tail light, and headset)
Standard Apple lightning cable (long enough to be able to work on my iPad while it charges)
Olight S1 mini flashlight which has a rechargeable RCR123 battery with a built-in micro USB charging port, and a spare battery
10.5" iPad Pro with smart keyboard and Apple Pencil
Toiletries (in 1q ziploc):
Merkur 45 Bakelite safety razor Double-edged razor blades are not TSA approved, but they shave better, cost less, and are easier on the environment.
Shaving oil in a micro vial. 5ml is enough for several shaves: you can get a comfortable shave with 5 drops. (Oil is much lighter and more compact than shaving cream or soap, and it has less packaging, so it's easier on the environment.)
Dr. Bronner's liquid Castile soap, which works as soap, shampoo, laundry soap, & for shaving. I transfer it into TSA-approved smaller bottles and put each bottle in a 2x3" ziploc in case of leaks.
Tooth powder in a 2"x3" ziploc bag. Powder is much lighter than toothpaste, and more ecological, in part because it uses so much less packaging.
5y of dental floss wrapped around a 2" piece of chopstick (lighter, more ecological, and cheaper than buying small packages of floss), with a tiny ceramic blade to cut it (not TSA approved)
Toothbrush with the handle cut down to 3"
Clothing (in Z-Packs Dyneema dry bag):
Outlier Breezy linen pivot shirt for dress, casual, beach, and sun protection while cycling or running. (In winter, I might have brought an Outlier Albini merino broadcloth shirt
Reda merino wool Oro piquet polo shirt for everyday wear, running, hiking, cycling, and dinner (with a blazer). I like casual shirts with a collar, since I can dress them up more easily, and the collar lets you adjust the warmth a bit. In winter, I might have brought an IceBreaker Oasis Turtleneck
Arc'Teryx A2B commuter pant for cycling in cooler weather, for hiking, as casual pants, and for dress. They have a thigh pocket for phone and passport and reflective tabs inside the cuffs and rear pockets. I also like Mission Workshop Division Chino. In winter, I might have brought the Mission Workshop Signal pant.
Mission Workshop Stahl shorts for cycling (with a cycling liner on long days), hiking, beach, and everyday wear. They also have a thigh pocket for phone & passport.
Light, quick-drying running shorts with liner (which double as a bathing suit). Mine are made by GoLite, which went out of business.
Ibex Woolies 1 zip-neck (150gsm merino) as an extra insulation layer, in case it got really cold. Sadly, Ibex is currently not in business, but may re-open soon. I almost brought the Montbell Extremely Light anorakinstead; the wool shirt weighs about the same. It isn't as warm, but it packs smaller and insulates when wet, while ordinary down does not. In winter, I might have brought the Patagonia micropuff hoodie, which is heavier and bulkier, but warmer and still insulates when wet.
Arc'Teryx Veilance Blazer LT as a water repellent windbreaker, insulation layer, and for dress. In winter, I would have brought the Arc'Teryx Veilance Haedn wool softshell blazer, which is substantially warmer.
Z-Packs hip-length Cuben fiber rain jacket. If I hadn't been cycling, I would have brought the Arc'Teryx Norvan SL rain shell, which is lighter but less protective, less durable, and has no ventilation.
Kuiu merino beanie, just in case, since my insulation layer didn't have a hood.
Montbell stainless steel hat with neck drape, for sun protection. It fits under a cycling helmet, too.
General-purpose tools
I was a Boy Scout and a mechanic: I always carry tools.
Titanium toothpick, a surprisingly useful tool.
Titanium emergency whistle. Whistles can be heard farther away than yelling, and take far less energy — which matters if you are injured.
2 safety pins
100' of Kevlar cord (you never know!)
1' zip tie for emergency repairs
2' of duct tape wrapped around a piece of chopstick (also for first aid)
small tube of superglue (repairs and first aid: can glue clean cuts that are less 1/2cm deep and 2cm long)
Small Bic lighter
Titanium water bottle. I don't like drinking out of plastic. Titanium doesn't impart any flavor to the water, and it's almost as light as plastic. In an emergency, you could boil water in it.
Spare reading glasses
First aid/meds
20 ibuprofen tablets
10 Imodium tablets
Probiotics
Zinc-oxide based sunscreen, transferred into a small plastic bottle
12" of Kinesio Gold tape (bandaging, blister repair, and chafing protection
2' of duct tape wrapped around a piece of chopstick (see above)
5 moist towelettes
Lip balm
Scissors from a Swisscard, with a piece of plastic straw to hold the blades closed
¹During the cycling week, I also carried three spare inner tubes and a spare tire, bike tools, helmet, bike shorts liner, lock, rechargeable bike lights, pump, an Opinel picnic knife, and a titanium spork, but my pack was still well under 15lbs with a full water bottle